Dysport® Philadelphia
What is Dysport®?
Dysport® is a form of botulinum toxin type A used to temporarily reduce the appearance of moderate to severe glabellar lines (frown lines between the eyebrows).
How does it work?
Over time, our repeated facial movements can cause fine lines and wrinkles to form, especially in our brow and forehead. Dysport is injected into the brow muscles to temporarily block the signals between nerves and muscles that cause lines to form in this area. Once injected, Dysport immediately goes to work smoothing wrinkles and fine lines.
Full results from Dysport are typically visible within 7 days, and last for approximately 3 to 4 months. We recommend patients receive injections every 3 to 4 months to maintain optimal results.
What can Dysport® treat?
Dysport is FDA approved to treat moderate to severe glabellar lines (also known as the "11s"). There are 5 main points along the brow where your provider will inject Dysport to minimize the appearance of glabellar lines (as seen below).

Dysport is injected into 5 main points along the brow to improve the appearance of frown lines. Photo courtesy of DysportUSA.com.
In addition to frown lines, Dysport is also effective at treating the following:
Forehead lines.
Crow's feet.
Abnormal muscle spasms in the neck, eyelids, and limbs.
Dysport® vs. Botox®
Dysport and Botox® are both neuromodulating drugs used to temporarily smooth lines and wrinkles in the face, but the two products have some slight differences:
Dysport may work slightly faster than Botox (2 to 5 days vs. 4 to 7 days).
Dysport disperses wider than Botox due to its molecular size, meaning it may have a slightly larger treatment area.
Both Botox and Dysport results typically last for 3 to 4 months, but Botox can last up to 6 months.
Botox and Dysport are measured in different units (1 unit of Botox equals 2.25 units of Dysport).
Am I a good candidate for Dysport®?
You may be a good candidate for Dysport if you meet the following criteria:
You are not allergic to botulinum toxin type A.
You avoid taking the following medications prior to your Dysport injections: aminoglycosides, anticholinergics, curare alkaloids, and muscle relaxants.
You avoid taking blood thinning medications like ibuprofen and acetaminophen 2 weeks prior to your treatment, as they can increase your risk of bruising.
You avoid alcohol 24 hours prior to treatment. Alcohol is a blood thinner, which may increase your risk of bruising.
You do not have a milk allergy (Dysport contains a milk-derived protein called albumin).
Have questions? Dr. Claytor can help you determine whether you're a good candidate for Dysport during a personal consultation.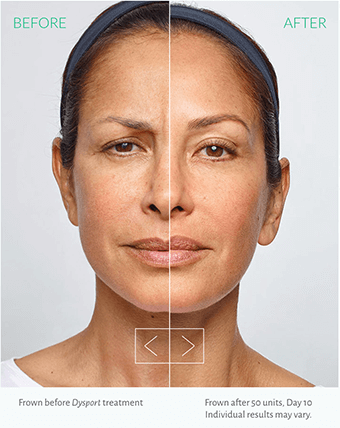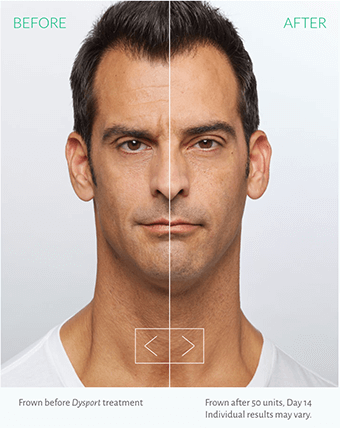 Does Dysport® have any side effects?
Dysport side effects are typically mild and resolve themselves quickly. The most common side effects with Dysport are swelling, redness, and headache. You can reduce any risks of complications by choosing a Board Certified Plastic Surgeon.
About your Dysport® treatment
Before your Dysport injections, our aesthetics team will apply a topical numbing cream to your treatment area. The number of units your doctor will use depends on the area being treated and your desired results. You may feel a slight pinch from the needle, but most patients describe this procedure as comfortable and relatively pain-free. Dr. Claytor and our experienced Physician Assistant, Julie Holesh, typically perform Dysport treatments in 10 minutes or less, making it the perfect "lunchtime treatment." It is common for patients to experience some minor swelling around their injection site, but this normally dissipates within 1 to 2 hours.
Schedule your Main Line Dysport® consultation today
Board certified plastic surgeon Dr. R. Brannon Claytor and our highly trained Physician Assistant administer Dysport, Botox, and Xeomin injections. Dysport injections are performed in the safety and comfort of our private surgical office, meaning patients can be back to their daily activities immediately following their treatment. To learn more about Dysport and to schedule your consultation, contact us online or call (610) 527-4833.
Request a consultation
BOTOX® Patient Reviews
Claytor / Noone Plastic Surgery
---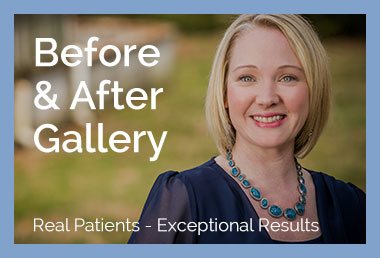 ---
Fantastic service and results! Two thumbs up!

I recently received BOTOX® injections for my forehead wrinkles and am thrilled with the results! Dr. Claytor and his staff are immensely kind and professional and made me feel extremely comfortable from the moment I set foot in the office. If you're considering any cosmetic procedure, look no further than Claytor Noon Plastic Surgery, as this is a top-tier practice.
-RealSelf Review
Happy 40 Yr Old Patient!" – Bryn Mawr, PA

I have seen Dr. Claytor numerous times for BOTOX® and am always extremely happy with my results. His staff is always friendly, professional, and inviting, and he is always on time. At every appointment, he takes the time to go over my concerns to make sure we are on the same page, even though he has seen me before. Dr, Claytor explains exactly what he is doing and I never feel rushed. He is more than happy to thoroughly answer any questions I might have. He is very kind and has a wonderful bedside manner. I would highly recommend Dr. Claytor and his staff for all of your cosmetic and reconstructive needs/concerns.
-RealSelf Review