Breast Augmentation in Philadelphia
What is a Breast Augmentation?
Breast augmentation is one of the most common procedures performed in the United States. It is also Dr. Claytor's most popular procedure that he performs at his office in Bryn Mawr, PA.
The Breast augmentation procedure can give women with small or unevenly sized breasts a fuller, firmer, better-proportioned look. The goal is to help women fit better in clothes and feel more comfortable with their figure.
Breast Augmentation Candidates
Our patients elect to undergo breast augmentation for many different medical and aesthetic reasons, including balancing breast size, compensating for reduced breast mass after pregnancy or surgery, and correcting a congenital breast defect. Our goal is to help you achieve the beautiful, feminine look you desire. Under Dr. Claytor's expert care, patients enjoy beautiful, natural-feeling breasts that are one or more cup sizes larger after the operation.
Breast Implant Types
Breast implants can be either silicone or saline. This decision is often a personal one and Dr. Brannon Claytor will help you select the implant that is the best option for you.
Saline and Silicone Gel Breast Implants
Breast implants are silicone shells filled with either saline (salt water) or silicone gel and the new cohesive (gummy bear) breast implant. All of these implant types are very safe and approved by the FDA, and each offers its own advantages.
During your consultation in the Bryn Mawr office with Dr. Claytor, he will discuss the advantages of each type of implant and which type is right for you. During surgery, we will place the implants behind each breast, underneath either breast tissue or the chest wall muscle. The location of the implant is best determined following a discussion with Dr. Claytor.
Breast Augmentation Before and After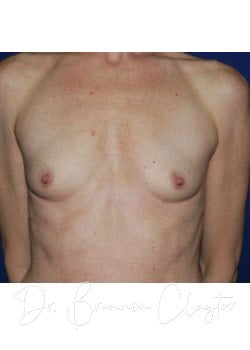 Silicone Implant Before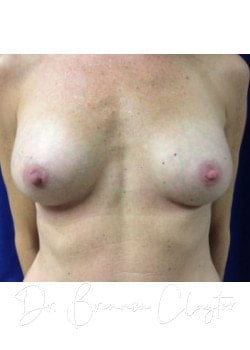 Silicone Implant After
Click Here to View More Before and After Photos in Our Gallery
Breast Surgery
The breast augmentation procedure lasts one to two hours. Typically, Dr. Claytor performs the surgery on his patients under general anesthesia. Incisions are made in inconspicuous places on the breast to minimize scar visibility. Breast incisions can be made:
In the crease on the underside of the breast (inframammary)
Around the areola, the dark skin around the nipple (periareolar)
The breast is then lifted, creating a pocket into which the implant is inserted. The implant placement beneath the muscle of the chest offers a few advantages over placement beneath the breast tissue only. These include reducing the risk of capsular contracture (post-operative tightening around the implant) and less interference with mammogram examinations. Possible disadvantages include need for drainage tubes and an increase in pain during the first few days following surgery. Dr. Claytor will discuss which option may be best for you.
After the implants have been placed beneath the nipples, the incisions are closed with stitches, then tape and bandages to wrap the area. In a few days a surgical bra will replace the bandages.
See Real Patient Results from Start to Finish
Recovery after Breast Augmentation
Most patients feel tired and sore after breast augmentation surgery, but this usually passes in a day or two. Many patients return to work within the week.
Dr. Claytor will remove stitches in a week to 10 days after breast augmentation. Any post-operative pain, swelling and sensitivity will diminish over the first few weeks. Scars from the breast incisions will begin to fade in a few months and will continue to fade for months or years.
Breast Implant Risks
Complications following breast augmentation surgery are uncommon and usually minimal. They may include capsular contracture, swelling and pain, infection around the implant, a change in nipple sensation, milk production if you nursed a baby within a year before the procedure, and breakage or leakage of the implant (implant rupture) as a result of injury or the normal compression and movement of your breast.
If a saline implant ruptures, the implant will simply deflate in a few hours and your body will then absorb the salt water. If a silicone implant leaks, you will need to see a doctor immediately. There is regular monitoring of breast implants after breast augmentation to ensure continuing breast and implant health.
Breast Augmentation Cost
The price for breast augmentation depends on several factors and varies due to each patient's needs and goals. The complete cost for a surgical procedure will include the surgeon's fee, the hospital or surgery center fee, and the anesthesia fee.
Can Breast Enhancement Be Combined With Other Procedures?
Breast enhancement can achieve dramatic and beautiful results on its own as well as in conjunction with other cosmetic surgery or non-invasive procedures. We sometimes recommend combining breast augmentation with other procedures such as a breast lift. Dr. Claytor will discuss this option with you during your consultation.
Breast Augmentation Consultation
We know that every woman is unique in both her desires and her body shape. During the pre-operative consultation, Dr. Claytor takes the time to learn what each patient hopes to gain from breast augmentation and decides which implant type and implant placement is best. In this way, every one of our patients enjoys a completely customized treatment designed with her specific goals in mind.
Breasts of my Dreams! – Bryn Mawr, PA

Meeting Dr. Claytor has changed my life! I have never met a plastic surgeon who genuinely cares and listens to every concern and question. Dr. Claytor was great from my first visit to the office and even after the surgery. I absolutely love my results and I would recommend him to anyone! Hands down the best experience!
-RealSelf Review
See Results Before Surgery With Crisalix 3D Imaging
Schedule a Consultation
Do you want to enhance your breast size? Call (610) 527-4833 to schedule a consultation with Philadelphia Plastic Surgeon Dr. Claytor and find out if you are a good candidate for surgery. Our practice serves patients from Philadelphia, Bryn Mawr, Main Line and surrounding areas in Pennsylvania.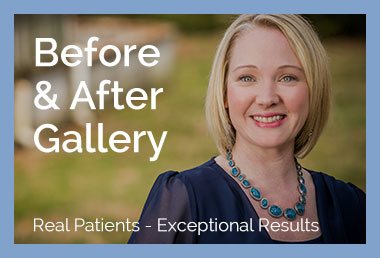 "Having children made me feel complete, but Dr. Claytor made me feel whole again."
Patient Reviews
Click Here to Read Dr. Claytor's Real Patient Ratings
Wish I had gotten this done sooner!

I was hesitant to get a breast augmentation at all because I didn't want to look "fake". So many girls I know have had them and I didn't always like the way they looked, but didn't really know how to explain it. When I saw Dr Claytor for the first time I showed him some of the ones I felt looked "fake" and he told me exactly why they looked that way and how to avoid it. When choosing a size, he helped a lot with picking what would get the result I was looking for without going too big (by the way, they have this really cool virtual reality thing where you can "try on" the implants beforehand!). Dr Claytor is so ridiculously nice and extremely knowledgeable. You could not be in better hands. He called me the day before my surgery and a few times after (not counting follow up appointments). I know I'm not his only patient, but he sure makes me feel like it. I just wish I would have seen him sooner! I have to travel an hour to his office even though there are other surgeons closer to me, I just liked him immediately and got a good feeling so it was worth the trip.
-RealSelf Review
Very Pleased with the Results of My Surgery

In June 2016, I underwent breast augmentation, abdominoplasty and surgery to repair an umbilical hernia with Dr. Claytor. I would highly recommend Dr. Claytor to anyone who is thinking about having any of these procedures. Following the birth of my third child, my belly button protruded and I had a bulge in my tummy, which made me look like I was still around three or four months pregnant. Even after losing all of the baby weight, doing lots of cardio and trying all sorts of abdominal exercises, the belly bulge just wouldn't go away. My children used to tease me, saying that my belly button looked like a nose and my belly looked like a balloon. Even more embarrassingly, upon seeing the little pot belly on my otherwise lean and athletic frame, people would often ask me if I was expecting. I learned from my family doctor that I had an umbilical hernia, which was the reason my belly button stuck out. He advised me of the option of having surgery to repair the hernia. At first, I was reluctant to have the surgery. But, I changed my mind when I found out that the potential health risks from an umbilical hernia can include incarceration or obstruction of the bowels. Knowing that my grandmother had died suddenly from a bowel obstruction at the age of 37, leaving my father to grow up without a mother when he was only three years old, I didn't want to take any chance of having the same thing happen to me. In addition to the hernia, I also had a diastasis recti – a separation of the abdominal muscles – which gave my belly its puffy, rounded appearance. My husband is the person who first suggested that I get a tummy tuck to fix the diastasis recti. In his defense, I don't think he did it because he was ashamed of how I looked. Instead, I think he just wanted me to feel more confident about my appearance because he knew it bothered me when my children teased me and people asked if I was pregnant. My husband is also the person who recommended Dr. Claytor to me. They met through a charitable organization they both belonged to, and my husband found out that Dr. Claytor had a lot of experience in performing the types of surgery I was contemplating. I decided to get breast implants because, for most of my life, I was so flat-chested that even an A-cup looked too big on me. My breasts got a lot bigger when I was breast-feeding my children. But unfortunately, as soon as I stopped nursing, I went right back to being as flat-chested as a ten year old boy, and the lack of breasts only seemed to accentuate my bulging belly. To make matters worse, my rather large nipples looked really droopy as a result of all of the breast-feeding. I didn't want to have unnaturally large breasts. I just wanted them to be proportional to the rest of my body. And, I wanted to be able to find bras and bikini-tops that fit. I thought that breast implants might be the solution to all of these problems. I had read articles about "mommy makeover" surgery, and I knew that by combining breast augmentation with a tummy tuck and hernia repair, I'd be able to save money and decrease my overall recovery time. The reduction in costs was even more significant for me, because the hernia surgery was covered by my insurance. So, I decided to have all three of these procedures done at the same time. Dr. Claytor explained the risks of the procedures in terms that were easy to understand. He was able to alleviate a lot of my fears about general anesthesia, pain and discomfort, and the ability to return to my normal activities. Both he and his entire staff were always very polite and respectful. He took the time to call me the night before the surgery to ask if I had any questions or concerns, and he called again a few times during the week after the surgery to check on how I was doing. Although I felt very nauseous for several hours after the surgery, the hospital staff gave me anti-nausea medication to ease my discomfort. I had a significant amount of pain for the first two or three days following surgery and needed to take the pain medication and muscle relaxers Dr. Claytor had prescribed to me. But, after that time, I felt well enough to stop taking the medications. Both my breasts and belly were really swollen after the surgery. Over the next six to eight weeks, the swelling gradually went away. I had to wear an uncomfortable abdominal binder for approximately six weeks after the surgery to help reduce the swelling. For a couple of weeks after the surgery, I felt hunched over while walking because my abdominal muscles were pulled so tight. I also was unable to raise my arms up overhead all the way because of the swelling near my breasts. In addition, I had a lot of trouble getting in and out of chairs and beds because I couldn't use my arms to compensate for my difficulty in bending forward and backwards at the waist and hips. Sleeping felt really awkward for a long time after the surgery. For the first few weeks, I could only feel comfortable if I slept in the recliner in my living room. After about a month, I was able to go back to sleeping comfortably in my own bed. As a result of the surgery, I have a scar under each breast and a scar going horizontally from hip to hip below my belly button. The scars from the breast implants were barely visible within six months after the surgery. However, the scar from the tummy tuck has been slow to fade and still hasn't gone away completely. Before the surgery, I was running an average of around fifty miles per week. I also frequently did yoga and Pilates and lifted weights. I was able to return to doing all of these forms of exercise within about six weeks after the surgery. At first, I had to reduce my running pace and mileage, but within a several weeks, both were back to normal. The surgery does not seem to have affected my strength or range of motion, and I think my ability to do balance poses in yoga may have actually improved. Another benefit of the surgery is that I no longer get abdominal cramps when doing certain postures in yoga and Pilates. I am extremely happy with the results of the surgery. Dr. Claytor used the new "gummy-bear" silicone implants in my breasts, and they both look and feel very natural. My nipples now look perky and no longer droop. I look much better in clothing, and it's a lot easier to find bras and bathing suits that fit. To my relief, my belly button no longer pops out like the timer on a Perdue Oven Stuffer Roaster, and I don't have to wear baggy tops and sweatshirts to hide my deformed gut. Best of all, my children don't make fun of my belly any more, and people have stopped asking me if I'm pregnant. I am truly grateful to Dr. Claytor for doing such an amazing job on my surgery. I feel very fortunate to have found such a talented plastic surgeon.
-RealSelf Review