Breast Augmentation Philadelphia
All women want to feel confident and comfortable with the size of their breasts. At Claytor Noone Plastic Surgery, we aspire to make women feel beautiful and have an appearance that matches how they feel on the inside. A Philadelphia breast augmentation procedure can give women with small or unevenly sized breasts a fuller, better-proportioned look for their body. Our goal is to help women fit better in clothes and feel more comfortable with their figure. With a breast augmentation, saline, silicone gel or gummy bear breast implants can be used.
What is Breast Augmentation?
Breast augmentation, also known as an augmentation mammoplasty (and casually called a boob job), is one of the most common procedures performed in the United States. It is also the most popular procedure that Dr. Brannon Claytor performs, meaning he knows how to give women the look they want in order to feel their best.
Patients receive breast augmentation when they want to increase their breast size, fix breast asymmetry, or balance the proportions of their body. A breast augmentation is also often included in a full mommy makeover—a customized set of procedures for the body, such as breast surgery, tummy tuck, and liposuction—that restores your pre-pregnancy shape.
What can this procedure do for your body?
Breast augmentation procedures can:
Increase the fullness and firmness of your breasts
Improve proportion of breasts and hip contours
Enhance your self-esteem and self-confidence
Provide restoration of breast shape after pregnancy and breastfeeding
See Dr. Claytor discuss breast implants used in breast aug »
Who is a good candidate for breast augmentation?
Our patients elect to undergo augmentation mammoplasty for many different medical and aesthetic reasons, including balancing the size of their breasts, compensating for reduced breast mass after pregnancy or surgery, and correcting a congenital breast defect. While we want to help you achieve your ideal look, patients also must have realistic expectations before undergoing the operation. Additionally, before this plastic surgery, candidates must have fully developed breasts and be in good physical health.
What are different types of breast implants are used in breast augmentation surgery?
Breast implants are silicone shells filled with either saline or silicone gel. Dr. Claytor's Philadelphia breast augmentation patients have four breast implant options:
Silicone gel
Saline (sterile saltwater)
Gummy bear (textured)
During your consultation, Dr. Claytor will go over the details of each implant as well as answer any questions you may have. All of these implant types are very safe, approved by the FDA, and offer their own advantages. This choice is often a personal one, and Dr. Claytor will help you select the type, shape, and size of implant that is the best option for your breast augmentation.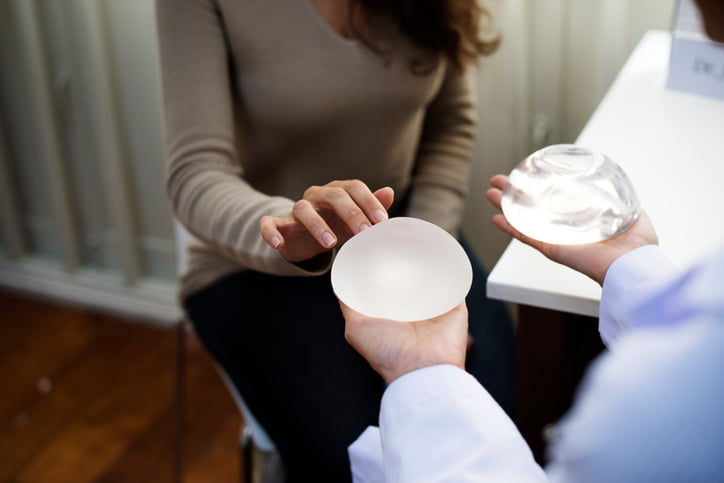 Saline breast implants vs. silicone gel implants
The main difference between silicone and saline is the feel and contents of the implant. Saline breast implants tend to feel heavier, but in the rare case the implant ruptures, your body will absorb the saline naturally and safely. Silicone breast implants feel more like natural breasts, but if a silicone implant breaks, patients can experience inflammatory nodules or enlarged lymph glands.
Dr. Claytor also offers textured gummy bear silicone implants, but reserves these implants for patients who wish to replace their old gummy bear implants from a prior breast augmentation. Gummy bear, aka "textured," implants are different from silicone and saline in that they are not filled with liquid but silicone. This allows them to keep their tear-drop shape, and they have a lower rupture rate than traditional silicone and saline implants.
Different brands of implants used at our practice
You will also have choices in the brand of breast implant, as we carry implants from the Allergan Natrelle® line and Mentor. Both Mentor and Allergan have a full range of implant sizes, as well as multiple options for projection and cohesivity:
Allergan's Natrelle® breast implants
Natrelle breast implants are made by Allergan, the manufacturer of Botox®, Juvéderm®, and other common aesthetic products. Natrelle silicone gel implants come in 3 "gummy" levels of cohesivity, so you can choose whether you want a more highly cohesive implant feel or a softer, more responsive feel for your breasts. Natrelle also makes saline implants.
Mentor breast implants
Mentor breast implants include both silicone gel and saline options. Silicone options MemoryGel, MemoryGel Xtra, and MemoryGel Boost™ range in cohesivity much like Natrelle implants; MemoryShape is a textured gummy bear implant option; and Mentor also makes a simple round shape saline breast implant and the Spectrum® adjustable saline implant.
Dr. Claytor would be happy to evaluate which type of implants you're a good candidate for during a personal consultation.
Where are breast implants placed during this procedure?
Breast Implant Placement
There are two types of placement for your implants, submuscular and submammary or subglandular.

Submuscular placement: Implants are placed under the pectoral muscle, also known as the chest wall
Subglandular placement: Implants are placed over the pectoral muscle behind the breast tissue.
Placement behind the chest wall muscle offers a few advantages over placement beneath the breast tissue only. These include reduced risk of capsular contracture (post-operative tightening around the implant) and less interference with mammogram examinations. Possible disadvantages include the need for drainage tubes and elevated pain in the first few days following the procedure.
Can I have a breast enlargement with my own fat?
Fat Transfer Breast Augmentations
In recent years, fat transfer for natural breast augmentation has become quite popular. The technique of harvesting fat cells from one area of the body to use elsewhere is not new. Surgeons have been doing this for decades, just not cosmetically. Today, fat transfer for breast augmentation has become common. This technique can increase volume by 1 to 2 cup sizes. There are several benefits of a fat transfer breast augmentation. The common risk is that the desired size will not be achieved due to fat absorption.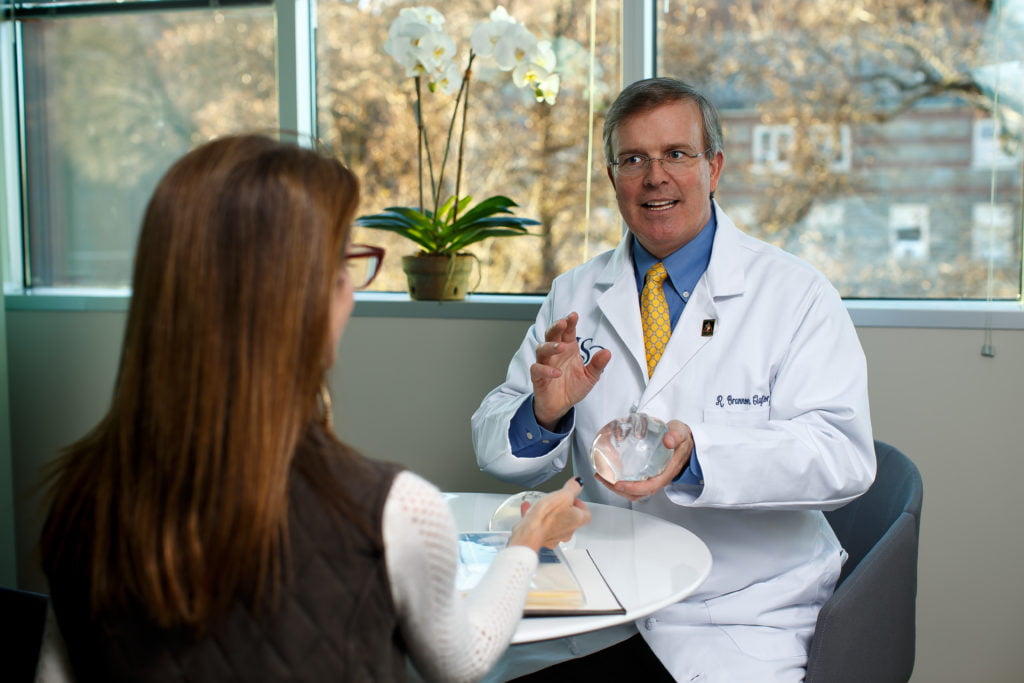 What is a breast augmentation consultation like?
We know that every woman is unique in both her desires and her body shape. During the pre-operative consultation, Dr. Claytor takes the time to learn what each patient hopes to gain from breast augmentation and decides which implant type and what placement is best. In this way, every one of our patients enjoys a completely customized treatment designed with her specific goals in mind.
In addition, patients will have a chance to see Crisalix 3D Imaging technology at work. Patients can virtually try on their new breast size and see how they will look in different types of clothing.
Watch a demonstration of Crisalix 3D Imaging technology »
What happens during breast augmentation?
After choosing your implants, patients can schedule their surgery. The breast augmentation procedure typically takes about one to two hours and patients are under general anesthesia. First, Dr. Claytor makes each incision in inconspicuous places on the breast to minimize scar visibility. These incisions can either be:
An inframammary incision along the inframammary fold, the crease on the underside of the breast
A periareolar incision, which is around the areola.
A transaxillary incision done in the armpit
Then, Dr. Claytor will lift the breast which creates a pocket to insert the implant. The implant can be placed beneath the muscle of the chest or simply beneath the natural breast tissue. When placed under the muscle, the risk of capsular contracture is reduced and mammogram examinations are more comfortable. However, patients would need drainage tubes after the operation, and it is likely that they would experience slightly more pain following surgery. Dr. Claytor will discuss these options during your consultation.
Once the implants are in place, the incisions are closed with stitches. Tape and bandages are also wrapped around the area. Under Dr. Claytor's expert care, patients enjoy beautiful, natural-feeling breasts that are one or more cup sizes larger after the operation.
Can this procedure be combined with others?
Breast Augmentation with Lift
While a breast enhancement can achieve dramatic and beautiful results on its own it cannot accomplish everything. A breast augmentation does not lift the breasts as a breast lift does. Patients that are experiencing sagging and want to increase the breast size and lift their breasts at the same time can choose an augmentation mastopexy or breast augmentation with lift.
During this procedure, Dr. Claytor performs a breast augmentation while also trimming excess skin, tightening tissue, and lift the breasts to sit higher on the chest. This combination allows patients to receive both surgeries at once and have one recovery period. If you feel this is an option for you, Dr. Claytor can discuss this combination surgery during your consultation.
What can I expect during breast augmentation recovery?
Breast augmentation recovery can take four to six weeks, on average. After the procedure, most patients feel tired and sore. This usually passes in a day or two and many patients return to work within the week. About a week to 10 days after surgery patients will come to Claytor Noone Plastic Surgery to have their stitches removed. Additionally, bandages can be removed from the breasts and replaced with a surgical bra. This will need to be worn for a number of weeks after surgery. Surgical incision scars will start to fade and become near invisible.
Dr. Claytor discusses the process of a breast augmentation, from initial consult to recovery »
Will I need to replace my breast implants?
Breast implants are not guaranteed to last a lifetime. Some circumstances may require revision surgery, such as a leak, rupture, or capsular contracture. Such instances significantly outnumbered by millions of cases in which long-term success is achieved.
The most common reason that women undergo a second breast implant procedure is that they desire a change in size. In the absence of problems, it may be possible to leave breast implants intact for many years. We encourage our patients to have their implants checked on a consistent basis.
What is a breast implant exchange?
Breast implant exchange is the term we use to describe revision in which one set of implants is switched for another. A woman may wish to exchange her implants to obtain a bigger size or smaller size. Some women exchange silicone implants for saline devices and some make the opposite switch. Implant exchange may also revolve around removing damaged implants for new, structurally sound devices.
As often as possible, breast implant exchange is conducted through the original incisions. Recovery is similar to primary breast augmentation, with many patients back to light activity within a week of their revision. Strenuous activities and heavy lifting need to be postponed for approximately 6 weeks.
Are there any risks to getting breast implants?
Complications following breast augmentation surgery are uncommon and usually minimal. We recommend patients regularly monitor their breast implants after the procedure to ensure continuing breast and implant health. If a silicone implant ruptures, due to injury or normal compression and movement, call our office immediately. Additional breast augmentation risks include:
Capsular contracture
Infection around the implant
Change in nipple sensation
Change in milk production if you were recently nursing
Breakage or leakage of the implant
Can I breastfeed with breast implants?
Most women have no problem breastfeeding with breast implants. Breast augmentation surgery may be conducted through different types of incisions. Some say that an incision made around the areola, the colored skin around the nipples, may damage nerves involved in breastfeeding. Other incision areas on the body, such as the crease below the breast or the armpit, may be less likely to cause nerve damage resulting in breastfeeding difficulty. 

Breast augmentation should always be obtained from a board-certified plastic surgeon with a good reputation for breast surgeries. A specialist like Dr. Claytor follows precise surgical techniques to decrease the effects of an incision and tissue manipulation on the nerves in the breasts.
How much does breast augmentation cost near Philadelphia, PA?
The total breast augmentation cost depends on several factors and varies due to each patient's needs and goals. The complete cost for a surgical procedure will include the surgeon's fee, the hospital or surgery center fee, and the anesthesia fee. Patients interested in their breast augmentation financing options can contact an office staff member for more information.
Breasts of my Dreams! – Bryn Mawr, PA

Meeting Dr. Claytor has changed my life! I have never met a plastic surgeon who genuinely cares and listens to every concern and question. Dr. Claytor was great from my first visit to the office and even after the surgery. I absolutely love my results and I would recommend him to anyone! Hands down the best experience!
-RealSelf Review
Schedule a consultation for your breast augmentation
Do you want to enhance your breast size? Call (610) 527-4833. Our friendly staff will help you schedule a consultation with Philadelphia Plastic Surgeon Dr. Claytor and find out if you are a good candidate. Our practice serves patients from Philadelphia, Bryn Mawr, Main Line, and surrounding areas in Pennsylvania. Get directions to our Philadelphia area office near the Bryn Mawr Hospital. »
Areas Served:
Request a Consultation
Patient Reviews
Claytor / Noone Plastic Surgery Institute
RealSelf Patient Reviews of R. Brannon Claytor, MD, FACS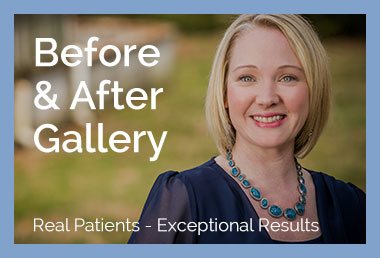 "Having children made me feel complete, but Dr. Claytor made me feel whole again."
Wish I had gotten this done sooner!

I was hesitant to get a breast augmentation at all because I didn't want to look "fake". So many girls I know have had them and I didn't always like the way they looked, but didn't really know how to explain it. When I saw Dr. Claytor for the first time I showed him some of the ones I felt looked "fake" and he told me exactly why they looked that way and how to avoid it. When choosing a size, he helped a lot with picking what would get the result I was looking for without going too big (by the way, they have this really cool virtual reality thing where you can "try on" the implants beforehand!). Dr. Claytor is so ridiculously nice and extremely knowledgeable. You could not be in better hands. He called me the day before my surgery and a few times after (not counting follow up appointments). I know I'm not his only patient, but he sure makes me feel like it. I just wish I would have seen him sooner! I have to travel an hour to his office even though there are other surgeons closer to me, I just liked him immediately and got a good feeling so it was worth the trip.
-RealSelf Review