Tummy Tuck Philadelphia
Tummy Tuck Surgery (Abdominoplasty)
What is a tummy tuck?
Tummy Tuck, or abdominoplasty, is a surgical procedure that treats stretched abdominal skin and muscles through an incision along the lower abdomen. A tummy tuck helps to sculpt a protruding belly by removing excess skin and tightening the abdominal wall musculature, flattening and shaping the abdomen. Liposuction is typically included in this procedure to remove stubborn fat and create an even more comprehensive result. Additionally, a tummy tuck may be able to remove some abdominal stretch marks.The incision, and thus your scar, is placed just above the pubic area so as to not be visible in a bikini.
If you are struggling with excess skin after weight loss or pregnancy, you have likely found that excess skin cannot be eliminated through diet and exercise—only plastic surgery can accomplish this. Abdominoplasty not only removes excess skin, but also treats abdominal bulging or other unwanted symptoms resulting from stretched muscles (diastasis recti), which are especially common after pregnancy. A tummy tuck is also often included in a full mommy makeover—a customized set of procedures, such as breast surgery, tummy tuck, and liposuction—that restores your pre-pregnancy shape. Bryn Mawr plastic surgeon Dr. Brannon Claytor is an expert in the tummy tuck procedure, and he is highly sought-after due to his use of a drain-free tummy tuck technique that eliminates the need for patients to wear post-operative drains.
Tummy tuck Before and After photos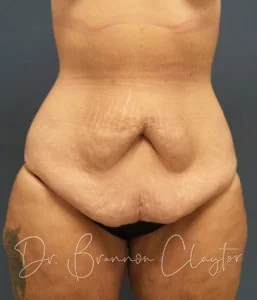 Before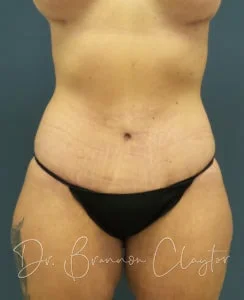 After
Click here to view more before and after photos in our gallery »
*Individual results may vary on a case by case basis.
How do I know if I am a good candidate for tummy tuck surgery?
The best candidates for abdominoplasty are patients who have excess fat, loose skin, and stretched muscles in the abdominal area that have not responded to diet and exercise. Many patients undergo this procedure after pregnancy or massive weight loss from bariatric surgery. Patients should be in good overall health. Do not use an abdominoplasty as a substitute for weight loss. Anyone planning on losing a significant amount of weight, and women planning on having (more) children, should wait before undergoing abdominoplasty or a mommy makeover. During your personal consultation at our Main Line office, Dr. Claytor will sit down with you to discuss your goals and determine if you are a candidate for surgery.
What happens during a tummy tuck (abdominoplasty) procedure?
During the tummy tuck procedure, you will be asleep under general anesthesia. The incision is usually placed along the lower abdomen, where a bikini can conceal the scar. First, Dr. Claytor will release the belly button from the excess skin. Second, he removes the excess skin and fat. Then, the abdominal muscles, which have typically been stretched, are pulled together and sutured for a firmer abdomen and narrower waist. After that, the separated flap of skin is then brought down over the newly tightened muscles, and the belly button brought up through a small incision in the skin.
Finally, he closes the incisions and places sterile surgical dressings over the sutured areas. The tummy tuck procedure takes approximately 3-4 hours to perform. If you are a good candidate for a drain-free tummy tuck, then you may not need to wear a drain during recovery.
What are the different types of tummy tucks?
There are several types of tummy tucks, including a drainless tummy tuck and mini tummy tuck. Dr. Claytor can help you determine which is best for your desired results.
Drainless Tummy Tuck
A drainless tummy tuck is not just a standard tummy tuck without the use of drains; rather, it involves a unique surgical technique that leaves a thin layer of scarpas fascia intact to allow for natural lymphatic drainage. This eliminates the need for cumbersome post-surgical drains.
One of the modifications to the classic tummy tuck procedure involves placing quilting sutures, or sparing the scarpas fascia which has the most lymphatic drainage tissue in the abdominal wall deep to the skin.
Dr. Claytor teaches an advanced course on this scarpas-sparing abdominoplasty technique at national meetings for The Aesthetic Society. During this procedure, he carefully keeps scarpas fascia intact so that this connective tissue may act as a lymphatic drainage system.
Dr. Claytor's independent research has demonstrated that fluid collection rates following surgery with this technique are actually less than that of those patients who have drains post-surgery; the no-drain tummy tuck technique is safe and even encourages faster recovery. For this technique, you will see additional benefits from the fact that less cautery and more discontinuous undermining are used during the surgery. This allows for improved blood supply and less traumatic tissue disruption—and a reduced strain on your healing body.
However, remember that this procedure is not simply a tummy tuck without drains: a drain-free tummy tuck requires extensive skill and experience. It is essential to undergo your tummy tuck procedure with a Board Certified Plastic Surgeon with years of experience performing successful drainless tummy tucks, such as Dr. Claytor.
Click here to view more videos in our gallery »
Mini Tummy Tuck
A partial abdominoplasty, or a mini tummy tuck, is similar to abdominoplasty, but involves shorter incisions and is an overall less invasive procedure. It is ideal for patients with lower abdominal fat. A partial abdominoplasty produces less scarring (in the bikini line) and has a shorter recovery time than abdominoplasty.
SmartLipo
If your goal is to trim down your abdominal profile so that less bulging is visible in clothes, a SmartLipo procedure under local anesthesia or a liposuction procedure in the hospital may be exactly what you are looking for. Compared to a tummy tuck, this fat reduction procedure involves less cost, making it desirable for many patients. However, to achieve the goals that most patients are interested in, a tummy tuck will be recommended.
When will I see my tummy tuck results?
Initial tummy tuck results—as in the flatter, more toned abdominal area provided by abdominoplasty—are visible right away. With a balanced diet and regular exercise, tummy tuck results are long-lasting. Conversely, becoming pregnant or gaining a substantial amount of weight after abdominoplasty can change your results.
*Individual results may vary on a case by case basis.
What is recovery like after a tummy tuck procedure?
After abdominoplasty, patients may experience swelling, bruising, and discomfort. You will need to wear a compression garment for a period of time after surgery. You should strictly avoid strenuous activity, such as lifting heavy objects, for several weeks, but you can likely return to work after a week or two. Complete recovery times vary from 2 weeks to 4 weeks.
Are there risks and side effects associated with a tummy tuck?
In addition to the usual risks associated with surgery and anesthesia, the unique risks and complications associated with abdominoplasty include asymmetry, a poor aesthetic result, unsightly scarring, loose skin, skin numbness, and a need for revision surgery.
In your personal consultation with board certified plastic surgeon Dr. Claytor, we will review your medical history, including any medications, as well as any allergies or past surgeries you have had in order to minimize the risk of complications.
Following the post-operative instructions surgery closely can ensure that you can further minimize the risk of tummy tuck surgery. These precautions may include avoiding certain activities, taking prescribed medication, keeping the surgical site clean and dry, and attending your follow-up appointments.
How much does a tummy tuck procedure cost in Philadelphia?
The cost of your Philadelphia Tummy Tuck procedure will depend on several factors including your specific needs and goals. The final cost for a surgical procedure such as this will include a surgeon's fee, a hospital or surgery center fee, and an anesthesia fee, which vary by procedure. We offer financing options to help patients by breaking down costs into monthly payments. Schedule your consultation at our Bryn Mawr office to learn more and determine if abdominoplasty surgery is the right choice for you.
What non-surgical procedures can help to achieve a more attractive abdomen area?
There are several non-surgical and minimally invasive procedures for improving abdominal contours and reducing fat and tightening skin around the stomach area. These procedures typically incorporate cryolipolysis (fat-freezing), radiofrequency, or ultrasound technologies.
Non-surgical fat reduction treatments are ideal for patients who want to reduce stubborn fat without the risks and downtime associated with surgical procedures. The benefits of non-surgical fat reduction include:
Little-to-no downtime
No anesthesia
No incisions or scars
Quick treatment times
Minimal side effects
Overall, non-surgical body contouring is a relatively easy and convenient way to improve your look by firming skin or reducing a fat bulge. However it should be noted that the effects of such procedures are typically mild, sometimes unpredictable, and not all patients are good candidates for these treatments.
For the typical patient seeking to address excess fat or skin sagging on the abdomen, a surgical approach will yield the most satisfying results. This is because a surgeon can customize their technique to thoroughly address the patient's individual concerns and sculpt a shape that enhances the patient's overall figure. Tummy tuck surgery can reduce stretch marks, improve belly button shape, emphasize hourglass curves, and address other details to achieve a more attractive abdomen, whereas non-surgical technology cannot yet adequately address such details.
Furthermore, because multiple non-surgical treatments are often needed to achieve satisfying results, it often ends up resulting in a total cost similar to that of a surgical tummy tuck.
Why choose Dr. Claytor as your tummy tuck surgeon?
Philadelphia tummy tuck surgeon Dr. Brannon Claytor, MD, FACS is a double board certified plastic surgeon who has extensive nationally-recognized experience with abdominal aesthetic surgery. He has been on the teaching faculty at The Aesthetic Society (ASAPS) for the past 8 years.
Dr. Claytor is an expert in the tummy tuck surgical technique and has performed hundreds of tummy tucks at his Philadelphia plastic surgery practice. Dr. Claytor's signature "drain-free tummy tuck" affords you a more comfortable postoperative recovery period.
During your personal consultation, Dr. Claytor will assess your needs and will guide you in determining whether you will need an extended tummy tuck, a mini tummy tuck, or a reverse tummy tuck to achieve your goals.
Read real patients' reviews about their tummy tuck with Dr. Claytor »
Schedule your Philadelphia, PA tummy tuck consultation
To learn more about a Philadelphia tummy tuck with board certified plastic surgeon Dr. Brannon Claytor, check out his photo gallery, review educational blogs on the topic or call (610) 527-4833 to schedule a consultation. Our cosmetic plastic surgery office serves patients from Philadelphia, Bryn Mawr, Main Line and surrounding areas.
---
Tummy tuck videos from Dr. Brannon Claytor
Tummy tuck overview
How a tummy tuck is combined with liposuction
Tummy tuck scar revision, explained
Dr. Claytor evaluates a patient based on RealSelf photos
Request a Consultation
Patient Reviews
Claytor / Noone Plastic Surgery Institute
RealSelf Patient Reviews of R. Brannon Claytor, MD, FACS
---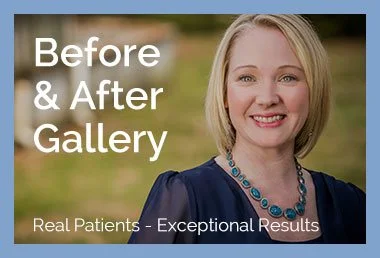 ---
"Dr. Claytor is a Wizard!

I've been contemplating breast reduction surgery for decades, but never pulled the trigger because I was afraid of the pain. After a shoulder injury, I decided I'd rather put up with a short time of breast pain than to continue having neck, back, and shoulder pains for the rest of my life. When I first called Dr. Claytor's office, Debbie immediately put me at ease and answered my many questions with wisdom and patience. Before I was even a patient, she treated me like a VIP, addressing every single email and phone call quickly and completely. Based on my research and my experience with Debbie I decided I wanted Dr. Claytor do my surgery.

Once I met Dr. Claytor, I knew I was in good hands. Not only because of the great reviews, not only because he's professional, intelligent, and experienced, but also because he's caring, kind, witty, warm, and extremely happy and upbeat. No question I asked was too trivial or silly, and I really felt like he was fully invested in giving me the outcome I was looking for.

I ended up getting a breast reduction, lipo and abdominoplasty. Before surgery, I changed into a gown, was hooked up to compression socks and an IV. Several of the nurses told me that Dr. Claytor is an excellent doctor and that I was in good hands. Dr. Claytor came in, marked me up and explained what he was going to do. He asked if I had any last-minute questions or concerns, and overall gave me a sense of calm that I chose the right doctor. The next thing I remember is waking up in the recovery room.

I know everyone is different, but based on online boards I've read, I expected more bruising, hardness, swelling, and pain.
Bruising: I was honestly shocked at the negligible amount of bruising there was considering all the work I had done.
Hardness: I only have a few lumps, which I believe will diminish with time and with the daily massaging Dr. Claytor instructed me to do around my incisions.
Swelling: I once went a few hours without wearing my compression garments which resulted in some swelling, but it dissipated once I put the compression back on.
Pain: I'm not gonna lie, I had lots of pain the first week after my surgery, but surprisingly on day 10 I turned a major corner, and the pain turned into soreness, and is now just occasional discomfort.

Today, at 3 weeks post-op, I am completely thrilled with the results. My breasts are perfect, and my torso looks so much better than I even hoped! No more hanging belly, no more back fat, no more muffin top, it's hard to believe this is my body!

From my initial phone call through my post-op visits, Dr. Claytor and his team have exceeded ALL my expectations. I would give Dr. Claytor 20 out of 10 stars if I could!"
---
"The experience with Dr. Claytor has been nothing but excellent, both the people and the results. He evaluates each and every patient. I respect those doctors who are on-time appointments. His amazing staff is just wonderful; kudos to Debbie, Emily and Heather. Night before my surgery, Dr. Claytor personally called me to answer any final questions and calm my anxiety about the procedures. When I got home, he called to check on me. I would recommend Dr. Claytor and his entire staff! You've changed my life for the better!"
---
"After raising two sons who became college athletes, I decided to finally take the time to get myself in shape. I hired a personal trainer, and began an intensive workout and diet regiment and within a year my body looked better (with clothes on) but my breasts sagged and I still had a baby belly no matter how many crunches I did. I came to the practice in 2013 and then met Dr. Claytor when he joined the practice in 2015. I found them to be professional, caring and thorough and couldn't be happier with the results! I work in a competitive field in the Healthcare Industry and a youthful, healthy look is a big advantage. My career has never looked better and I am even getting married again!!!"
---
Great Experience and Results!"My only regret is that I did not have the surgery years ago. I always felt guilty even contemplating having this done (the cost, the risks, the time off from work, what would people say?) then I realized that I work hard and have always put my family and others first and that even though I am a fit 47 yr old, no amount of sit-ups or miles of running was going to make my stomach flat and tighten my muscles as only surgery could do. I live in Harrisburg and there are many highly reviewed surgeons there and the surrounding area. I researched many of them, but it was difficult to find one that met all of my criteria; especially one who was skilled in using the High Tension Lateral method with NO drains My friend chose Dr. Claytor to do the same procedure. Because I was able to see her results and hear of her experience, I chose to set up a consultation. After meeting with Dr. Claytor, I had no doubt that I was in safe hands. My husband agreed. He is very personable and was so thorough with the information he provided that we had very few questions. He did not make me feel rushed or pressured. He called me before and after my surgery and responded immediately when I contacted him twice about some potential concerns after the surgery. He is very genuine and it is obvious that he cares about his patients. His staff is very kind as well. I chose to have the procedure at the surgery center instead of the hospital. The staff at the surgery center were exceptional! I am 3 weeks post-op and am so pleased with the results! I did not have nearly the amount of pain I was expecting. I was only on the pain meds for a day and then switched to extra=strength Tylenol. Actually, my back hurt much worse because you can't stand up straight for about a week. I would highly recommend getting a used walker from a goodwill to have on hand. It is worth it! There have been studies that show a tummy tuck can help with some back issues (strong core helps maintain a strong back). I already started on my scar therapy and am using silicone strips (order long ones online) as well as silicone gel. I am SO HAPPY I chose to have this done and am very fortunate Dr. Claytor was my surgeon! Just a side note: since I live a few hours away, I stayed at the Marriott Courtyard ( literally right next door) the evening before and after the surgery. it was just a few minutes from Dr. Claytor's office for the follow-up appointment the morning after the surgery.
-RealSelf Review
Mini TT and Breast Augmentation

I had lost a significant amount of weight (70lbs) and at 21 my body looked like I had a baby! I chose a mini tummy tuck and lipo combo to remove excess skin and fat tissue. I also had tubular breast deformity and after weight loss my boobs were uneven and shaped weird. I had surgery today and I'm so excited to see the results!! I wasn't sure what to expect but w pain killers and muscle relaxants, I feel pretty good. I don't have any drains and am wearing compression devices. Any questions please ask!
-RealSelf Review