Tummy Tuck / Abdominoplasty in Philadelphia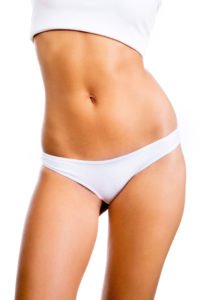 As a Plastic Surgeon, we often have expertise at every level of rejuvenation for abdominal aesthetics. Many of us have nonsurgical options such as CoolSculpting or SculpSure. Many of us also have capability to perform SmartLipo procedures with local anesthesia. All of us of course have expertise at liposuction and all of us have expertise at performing the tummy tuck or abdominoplasty procedure.
The challenge is helping you as the patient figure out which operation, or which intervention will help you achieve your goals. There is little question as to which intervention will confer for your body habitus the superior results. The answer to that is certainly a tummy tuck or abdominoplasty.
What is a Tummy Tuck?
Tummy Tuck, or abdominoplasty, is the treatment of excess abdominal skin with surgery to remove the skin through an incision on the lower abdomen. The final scar is optimally placed so as to not be visible in a bikini. This stomach tightening procedure is commonly referred to as a tummy tuck. The abdominoplasty procedure is a cosmetic surgery procedure which can also tighten the abdominal wall and flatten and shape the abdomen.
How do I know if I Am A Good Candidate for a Tummy Tuck?
The best candidates for abdominoplasty, or tummy tuck, are patients who have excess fat, loose skin and stretched muscles in the abdominal area that have not responded to diet and exercise. Many patients undergo this procedure after pregnancy or massive weight loss from bariatric surgery. Patients should be in good overall health. Abdominoplasty is not to be used as a substitute for weight loss. Anyone planning on losing a significant amount of weight, and women planning on having (more) children, should wait before undergoing abdominoplasty. During your personal consultation at our Main Line office, Dr. Claytor will discuss your goals and determine if you are a candidate for surgery.
Dr. Claytor Evaluating a RealSelf Patient
Tummy Tuck (Abdominoplasty) procedure
During the tummy tuck procedure, the patient undergoes general anesthesia. The incision is usually placed along the lower abdomen optimally where it can be concealed by a bikini. The belly button is released from the excess skin to be removed. Then the excess skin and fat are removed and the abdominal muscles, which have been spread by pregnancy, are then pulled together and sutured for a firmer abdomen and narrower waist. The separated flap of skin is then brought down over the newly tightened muscles, and the belly button brought up through a small incision in the skin. The incisions are then closed, and sterile surgical dressings are applied over the sutured areas. The  tummy tuck procedure takes approximately 2 hours to perform. In selected patients who are candidates drains are not needed.
Drain-free Tummy Tuck
Excess skin from weight loss or post-pregnancy can only be eliminated through surgery. A tummy tuck will allow you to achieve your optimal goal.  It is important to have realistic goals, and this is something you will review with Dr. Claytor during your consultation.  The tummy tuck or abdominoplasty procedure can help remove those abdominal stretch marks and excess skin. The combined liposuction can address the stubborn fat which can be resistant to dieting and exercise. An added benefit of the tummy tuck procedure can be the tightening of the abdominal muscles which can become stretched out during pregnancy and may result in an abdominal bulge. The newest surgical techniques enable patients to enjoy the benefits of abdominoplasty without the need for post-operative drains.  The recovery from surgery is varied and may be dependent on your activity level prior to surgery. Most patients return to regular activity within 2 weeks and full activity within 1 month.
A Drainless tummy tuck is not just a standard tummy tuck without the use of drains, it involves an entirely radical concept of surgical technique with minimally invasive maneuvers and less traumatic technique. Dr. Claytor, who teaches the advanced course on scarpas sparing abdominoplasty at the national meetings for the American Society for Aesthetic Plastic Surgery, keeps scarpas fascia intact to act as a lymphatic drainage system. For each technique additional benefits comes from less cautery and more discontinuous undermining which allows for improved blood supply and less traumatic tissue disruption. You need a Board Certified Plastic Surgeon with years of experience; you need Dr. Claytor.
Mini Tummy Tuck
A partial abdominoplasty, or a mini tummy tuck, is similar to abdominoplasty, but involves shorter incisions and is an overall less invasive procedure. It is ideal for patients with fat localized in the lower abdomen. A partial abdominoplasty produces less scarring (the short scar is hidden in the bikini line) and has a shorter recovery time than abdominoplasty.
SmartLipo vs Tummy Tuck
Patient's desires may be to trim down one's profile so that in clothes less bulging is seen and in this case a SmartLipo procedure under local anesthesia or a liposuction procedure in the hospital may be exactly what one is looking for. Certainly, the costs will be less and this makes this option very attractive to many patients. However, to achieve the goals that many patients are interested in addressing the loose skin on the abdomen and the stria stretch marks from pregnancy need to be removed. This is in addition to the excess of fat and the stretched-out muscles known as rectus diastases which comes from multiple pregnancies. The definitive treatment for these conditions is a tummy tuck which is also known as an abdominoplasty.
Tummy tuck Recovery
After abdominoplasty, patients may experience swelling, bruising and discomfort. Compression garments are worn. Patients should avoid strenuous activity and lifting heavy objects for several weeks, but can likely return to work after a week or two. Complete recovery times vary from 2 weeks to 4 weeks.
Results of Abdominoplasty
The flatter, more toned abdominal area provided by abdominoplasty is visible right away. With a balanced diet and regular exercise, results are long-lasting. Becoming pregnant or gaining a substantial amount of weight after abdominoplasty can change your results.
Tummy tuck before and after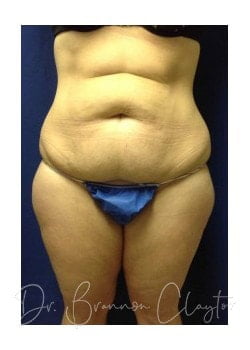 Tummy Tuck w/ Liposuction Before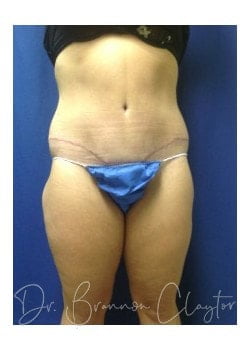 Tummy Tuck w/ Liposuction After; No Drains Needed
See more before and after photos here
Tummy Tuck Side Effects
In addition to the usual risks associated with surgery and anesthesia, risks associated with abdominoplasty include asymmetry, a poor aesthetic result, unsightly scarring, loose skin, skin numbness, and a need for revisional surgery.
How Much Does a Tummy Tuck Cost?
The cost of your Tummy Tuck procedure will depend on several factors and will be determined based on your specific needs and goals.  The final cost for a surgical procedure such as this will include a surgeon's fee, a hospital or surgery center fee, and an anesthesia fee, varying by procedure. Schedule your consultation today to determine if abdominoplasty surgery is the right choice for you.
Dr. Claytor's Experience
Dr. Claytor has extensive experience with abdominal aesthetic surgery. He has been on the teaching faculty at the American Society for Aesthetic Plastic Surgery (ASAPS) for the past 3 years.
Here is Dr. Claytor with faculty and attendees at the ASAPS meeting in Montreal.

Choosing a Plastic Surgeon
When looking for a plastic surgeon consider someone with experience in "No Drain Tummy Tuck" as this will afford you a more comfortable postoperative period. As well as less encumbrances during your recovery and less discomfort. This is done with the scarpa sparing abdominoplasty technique and involves keeping the scarpa layer on the abdominal wall which allows for the lymphatic drainage through the body's natural lymphatic drainage system.
Ready to get started?
Learn more about a Tummy Tuck. Call (610) 527-4833 to schedule a consultation. Our cosmetic plastic surgery office serves patients from Philadelphia, Bryn Mawr, Main Line and surrounding areas.
In conclusion the recommendation here would be, "Love it, or Lipo it."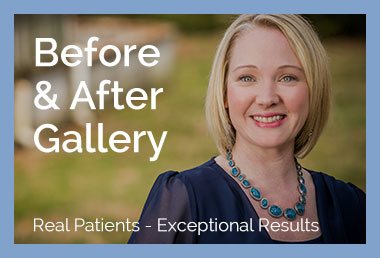 "The experience with Dr. Claytor has been nothing but excellent, both the people and the results.  He valuates each and every patient.  I respect those doctors who are on time appointments.  Hi amazing staff is just wonderful; kudos to Debbie, Emily and Heather. Night before my surgery, Dr. Claytor personally called me to answer any final questions and calm my anxiety about the procedures.  When I got home, he called to check on me.  I would recommend Dr. Claytor and his entire staff!  You've changed my life for the better!"
---
"After raising two sons who became college athletes, I decided to finally take the time to get myself in shape. I hired a personal trainer, and began an intensive workout and diet regiment and within a year my body looked better (with clothes on) but my breasts sagged and I still had a baby belly no matter how many crunches I did.   I came to the practice in 2013 and then met Dr. Claytor when he joined the practice in 2015.  I found them to be professional, caring and thorough. I couldn't be happier with the results!  I work in a competitive field in the Healthcare Industry and a youthful, healthy look is a big advantage. My career has never looked better and I am even getting married again!!!"
Patient Reviews