Face
Facelift
A facelift, technically known as a rhytidectomy, is one of the most common plastic surgery procedures available. A facelift removes wrinkles, sagging and skin laxity for a younger, more refreshed appearance.  A facelift procedure reverses the signs of aging by tightening muscles, removing fat, and trimming excess skin, rejuvenating the mid- to lower face, including the cheeks, mouth, chin, and neck. Dr. Claytor, who is board certified in Plastic Surgery, employs the most up to date techniques to enable patients to achieve the safest, most natural looking result.  Dr. Claytor expertise enables him to combine the facelift with an eyelift (blepharoplasty) and/or facial fat grafting to achieve optimal results.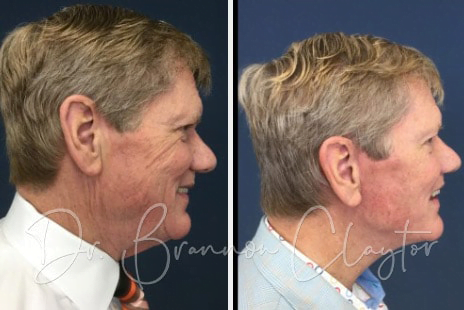 Silhouette InstaLift
The Silhouette InstaLift represents innovation in the art of suspension suturing for facial rejuvenation. The office procedure achieves immediately-noticeable results that can last up to 18 months at a time.
Rhinoplasty / Nose Job
Rhinoplasty, or a nose job, is one of the most frequently performed plastic surgery procedures. The goal of a rhinoplasty is to reshape, reduce, or augment the nose to improve its appearance. Patients often receive a nose job in order to correct a birth defect or repair an injury such as a broken nose. In addition, patients can choose a rhinoplasty to improve their confidence and overall appearance.
For a patient with ongoing sinusitis or a deviated septum, patients can receive a rhinoplasty in conjunction with endoscopic sinus surgery or a septoplasty. With these cases, a rhinoplasty effectively treats health and breathing problems, in addition to improving the patient's appearance. Making this both a cosmetic and functional solution.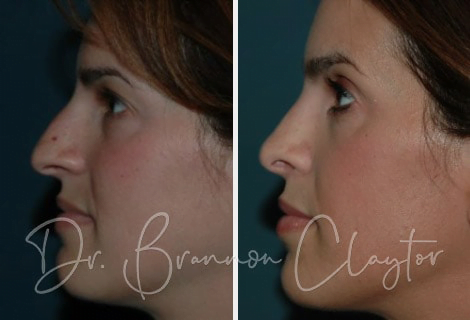 Neck Lift
The skin on a person's neck can sag as a result of aging or weight loss, and is often affected before the face. A neck lift is a surgical procedure that can smooth and tighten this skin to provide a more toned and youthful appearance. The results of this procedure offer a drastic improvement to the appearance of the neck and subtle changes to overall appearance. Having loose neck muscles can lead to bands on the neck or drastic drooping of the skin. This can lower an individuals self-confidence as they believe people are looking at their aging skin and not them.

Brow Lift (Forehead Lift)
Also known as a forehead lift, a brow lift is a surgical procedure performed to reduce signs of aging in the forehead area. It aims to remove or minimize deep horizontal creases across the forehead and bridge of the nose, and the frown lines between the eyebrows. It also lifts the eyebrows, making the eyes look more open.
Blepharoplasty (Eyelid Surgery)
Eyelid surgery also called an eye lift or blepharoplasty, is typically a cosmetic procedure, but can also improve vision by lifting droopy eyelids out of the patient's field of vision. By removing excess fat, skin and muscle from the upper and lower eyelids, blepharoplasty can rejuvenate puffy, sagging or tired-looking eyes.
Blepharoplasty surgery does not raise the eyebrows or reduce the appearance of wrinkles, crow's feet or dark circles under the eyes. Procedures such as a facelift and Botox® are treatments that can achieve these results.

Ear Surgery / Otoplasty
Otoplasty, or ear surgery, is a cosmetic procedure to improve the appearance of a person's ears. Although otoplasty does not affect hearing, it can provide great psychological benefits. Otoplasty is most commonly performed to set unusually prominent ears back closer to the head, called ear pinning, or to reduce the size of abnormally large ears. Ear surgery may also be helpful to reconstruct abnormally small ears or lop ears or to repair ears which have been damaged by injury or cancer surgery.
Lip Enhancement
Lip augmentation increases the size of the lip for patients whose lips have lost volume with age, or who are unhappy with the natural appearance of their lips. Through injectable fillers, autologous grafts or synthetic implants, patients can achieve larger, fuller lips with minimal downtime and little to no side effects.
Facial Fat Grafting
Also called "fat grafting" and "autologous fat transfer," fat transplantation involves removing a portion of a person's excess body fat and placing it into another area of his or her body that needs more volume. When used for the face, it can restore lost volume in the lips, temples, cheeks and chin. Fat transplantation is effective in treating sunken areas, lines, wrinkles, creases, acne scars and other issues caused by the decrease in volume that results from aging, sun damage and other conditions.
PrecisionTX is a minimally invasive laser for face and neck contouring. PrecisionTx is a type of SmartLipo that specifically targets the chin and neck area including a double chin, sagging neck and jowls around the cheeks and lower face. This quick, one-time treatment works below the skin to disrupt those areas of fat, for a smoother, healthier look.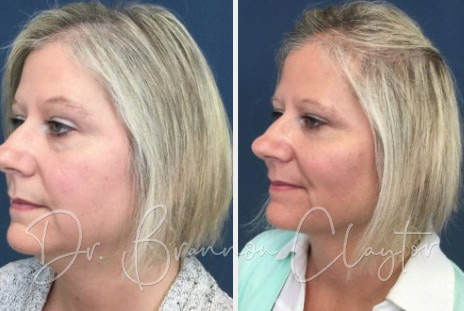 Schedule A Consultation
To learn more about any of the facial procedures we offer please contact us today at 610.527.4833 to schedule an appointment.