Body
Tummy Tuck / Abdominoplasty
Tummy Tuck, or abdominoplasty, is the treatment of excess abdominal skin with surgery to remove the skin through an incision in the lower abdomen. The final scar is optimally placed so as to not be visible in a bikini. This stomach tightening procedure is commonly referred to as a tummy tuck. The abdominoplasty procedure is a cosmetic surgery procedure which can also tighten the abdominal wall and flatten and shape the abdomen. Giving your body a more sculpted and defined look while improving your confidence.
Excess skin from weight loss or post-pregnancy can only be eliminated with surgery. Consider a tummy tuck to achieve your optimal goal. The tummy tuck or abdominoplasty procedure can help remove abdominal stretch marks, a protruding belly and excess skin. The combined liposuction removes the stubborn fat that defies dieting and exercise. An added benefit of the tummy tuck procedure is the tightening of the abdominal muscles which can become stretched out during pregnancy and may result in an abdominal bulge. Dr. Claytor is an expert in the tummy tuck procedure, and he uses the latest surgical techniques to enable patients to enjoy the benefits of abdominoplasty without the need for post-operative drains.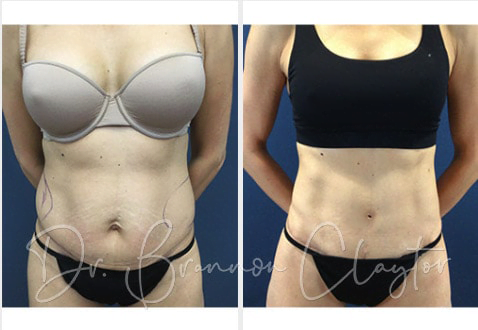 Liposuction
Liposuction, sometimes referred to as "lipo" by patients, is the most common cosmetic procedure in the United States and in the Greater Philadelphia area. Although it is often a common procedure for females, male liposuction is becoming an increasingly popular procedure, especially in our image-driven society.
Body Lift
Many men and women who have successfully lost a significant amount of weight find that they have excess skin that inhibits their ability to feel the joy and confidence they have earned. This skin or pannus, can be removed enabling clothing to fit better and simultaneously increasing confidence. Also called belt lipectomy, torsoplasty and panniculectomy, the circumferential body lift is performed to remove excess skin from the torso and upper legs.
Thigh Lift
A thigh lift is performed to tighten the skin around the inner thigh to form a more aesthetically pleasing frame. The outer thigh skin can be tightened with a combination of a upper thigh lift and liposuction.
Arm Lift / Brachioplasty
The clinical term for an arm lift is brachioplasty. The goal of this surgery is simple — to tighten up and slim the contour of the upper arms between the elbow and shoulder. This will involve removing excess skin, possible fat pockets, and tightening the muscles in the area. The end result is a slimmer, tighter contour that you'll be proud to show off in a sleeveless dress or swimsuit.


Mommy Makeover
A mommy makeover is a combination of cosmetic procedures that target the various areas affected by pregnancy and childbirth. At Claytor Noone Plastic Surgery on the Main Line of Philadelphia, our mommy makeovers usually involve a tummy tuck, breast lift/augmentation, and liposuction. With the goal of making your body appear as it did before baby.
A tummy tuck tightens the abdomen, often bringing muscles that have separated back to the center. Depending on your circumstances, a tummy tuck can target both the lower abdomen and the area just above the navel. A breast lift brings the breasts back up to a higher position on the chest, removing excess skin as necessary. Often augmentation with implants is included along with the lift to regain volume that was lost with breastfeeding. Liposuction is usually also a part of our mommy makeovers to remove stubborn pockets of fat that accumulated during pregnancy and seem virtually impossible to get rid of.
Labiaplasty
Labiaplasty is also known as vaginal rejuvenation or aesthetic genital surgery. Vaginal rejuvenation or labiaplasty is the reshaping of the labia, the inner and outer lips of the vagina. Childbirth, significant weight loss, aging or injury to genital structures often impact the vaginal structure which can alter or stretch over time. Labiaplasty may increase both your comfort and confidence.
CoolSculpting
The CoolSculpting procedure eliminates stubborn fat safely and effectively, without surgery or downtime. This fat reduction treatment is the only FDA-cleared procedure to use controlled cooling to safely target and eliminate diet- and exercise-resistant fat. CoolSculpting results are proven, noticeable, and lasting, so you'll look and feel great from every angle.
SmartLipo
Smartlipo is a laser-assisted liposuction procedure that is done under local anesthesia. This is designed to target stubborn body fat in the stomach, love handles or flabby arms. After treatment, the targeted areas look slimmer and more contoured, giving the patient a better over-all body proportion. Laser-assisted Smartlipo promotes the production of new collagen resulting in a 57% increase in tissue tightening over traditional liposuction. Making this a great option for sculpting your ideal looking figure.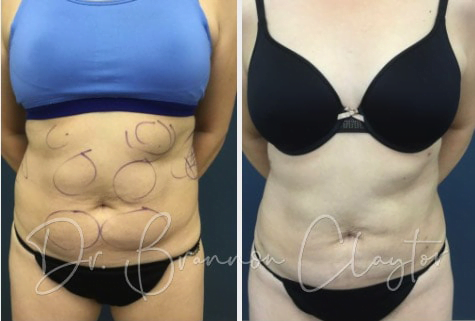 SculpSure
For many, diet and exercise simply will not eliminate that stubborn fat that accumulates in the belly and love handles. SculpSure is the world's first FDA Cleared light-based body contouring system for the reduction of fat. SculpSure enables patients to achieve a slimmer appearance in only 25 minutes without surgery or downtime.
Brazilian Butt Lift
Each of us is born with the backside we're going to have, and you're not going to change it with exercise. If you don't like the shapeless, flat bottom you have, it's not as if you can lift weights and make it rounder and curvier. Of course, if you gain weight your bottom could become bigger but that's not the way to go about it. Luckily, Claytor Noone Plastic Surgery can perform Brazilian butt lifts in Bryn Mawr, PA.
Schedule A Consultation
To learn more about any of the body procedures we offer please contact us today at 610.527.4833 to schedule an appointment.