Rhinoplasty / Nose Job in Philadelphia
What is Rhinoplasty (Nose Job)?
Rhinoplasty (nose job) is one of the most frequently performed plastic surgery procedures. During rhinoplasty, the nose is reshaped, reduced or augmented to improve its appearance. A nose job may be performed to correct a birth defect, or repair an injury such as a broken nose. It is also often performed strictly for cosmetic reasons.
For a patient with ongoing sinusitis, rhinoplasty is sometimes performed in conjunction with endoscopic sinus surgery; for a patient with a deviated septum, it is often performed along with septoplasty, a procedure that corrects a deviated septum. In such cases, rhinoplasty effectively treats health and breathing problems, in addition to improving the patient's appearance.
Candidates for Nose Job
Candidates for nose job have finished their facial growth. Girls should typically be at least 15 or 16 years old; boys should be at least 17 or 18. Patients considering rhinoplasty should be in overall good health and not smoke. It is important that candidates have realistic expectations about what rhinoplasty can do. Undergoing rhinoplasty may boost self-confidence, however, it should not be viewed as a cure-all for personality or relationship issues, and should not be the result of social pressure.
What Rhinoplasty corrects
There are several goals of rhinoplasty; they include facilitating breathing as well as improving appearance. During rhinoplasty, the surgeon may attempt to do one or more of the following:
Remove a hump
Modify the bridge
Reshape the tip
Reshape or resize the nostrils
Repair an injury
Open breathing passages
Increase or decrease size
Rhinoplasty can involve modifying bone, skin or cartilage, or all three.
Rhinoplasty Procedure
Rhinoplasty, which takes from 1 to 2 hours, is usually an outpatient procedure performed under IV sedation or general anesthesia. Two techniques are typically used, either closed rhinoplasty or open rhinoplasty. In closed rhinoplasty, incisions are made within the nostrils. In open rhinoplasty, an incision is made across the columella, the tissue between the nostrils. With both methods, the soft tissues covering the nose are gently lifted, and the bone and cartilage are sculpted to the desired shape.
Additional cartilage may be needed to augment the nose. The additional cartilage is frequently taken from the patient's nasal septum. If larger sections of tissue are required, cartilage may be surgically removed from the ear or other parts of the body as well. If the patient has a deviated septum, the septum and inner structures of the nose are adjusted to improve breathing. The tissues are then redraped and stitched closed. If necessary, nostrils are reshaped in the final stage of rhinoplasty.
Rhinoplasty Before & After Photo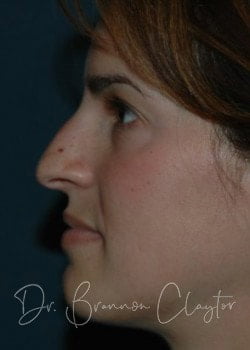 Click Here to View More Before and After Photos in Our Gallery
Nose Job recovery
Immediately after surgery, the patient's nose and eye area are usually bruised and swollen. Splints and nasal packing remain in the nose for a few days. During this period, the patient may experience some nasal pain or a dull headache, as well as some bleeding and drainage from the nose. Most patients feel like themselves within a few days and are able to return to regular activities in about a week.
To increase comfort, and decrease bleeding and swelling, patients are advised to follow these post-surgical directives:
Avoid strenuous activities
Take baths instead of showers
Refrain from blowing your nose
Avoid becoming constipated
Avoid exaggerated facial expressions
Brush the teeth gently
Avoid pulling clothing over the head
Use sunscreen that has an SPF of 30 or higher
Limit dietary sodium
Do not use ice packs
Although the patient usually looks "normal" a week or two after surgery, minimal swelling may be present for as much as a year.
Rhinoplasty Risks
Complications associated with rhinoplasty are rare and, when they occur, usually minor. Surgical risks, in general, include infection or adverse reaction to anesthesia. In the case of rhinoplasty, specific risks include the following:
Recurring nosebleeds
Difficulty breathing through the nose
Permanent numbness in or around the nose
Persistent pain
Discoloration of skin on the nose
Scarring
Perforation of the nasal septum
It is possible that a patient is not satisfied with the results of the rhinoplasty. In such a case, a second surgery, called a revision rhinoplasty, may be performed at a later date.
schedule a consultation
If you are interested in rhinoplasty or nose job, and would like to see if you are a good candidate, contact our Philadelphia office at (610) 527-4833 to schedule a consultation. Dr. Brannon Claytor serves Philadelphia, Bryn Mawr PA and surrounding areas.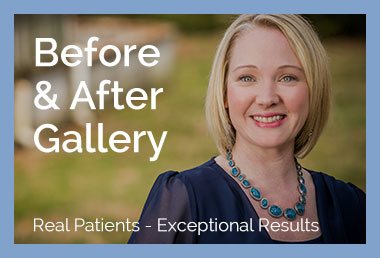 Patient Reviews
Claytor / Noone Plastic Surgery Institute
Great Experience!

Dr. Claytor was very helpful and realistic when it came to my surgery. I got rhinoplasty/septoplasty. We both agreed that my nose shouldn't have a drastic change and should look like it fits my face. I am now 3 months post-op and my nose looks great and it looks perfect for my face! I was nervous going into surgery but I was actually the only surgery set up for that day so I ended up having even more privacy at the surgery center than expected. The week after surgery, Dr. Claytor made himself available via his cell number should I need anything or have any concerns. This was relieving for someone like me who was nervous. His staff was also very friendly and helpful.
-RealSelf Review
Amazing Rhinoplasty Experience

Had a Rhinoplasty with Dr. Claytor in the beginning of January and I LOVE the results. My new nose is a better version of the old one and works with my face perfectly. I would like to thank Dr. Claytor and his staff for being so attentive to my care throughout the process. Dr. Claytor in particular made sure that I understood the before, during and after of the whole process before I agreed to anything. He answered all my questions and made me feel really comfortable with the surgery. Even during my recovery he was always checking in on me. It was was a great experience that left me feeling so confident and happy with my results. 10/10 would recommend Dr. Claytor and staff to a friend 🙂
-RealSelf Review