360 degree Body Lift in Philadelphia
Plastic Surgeon & Medical Spa Serving Bryn Mawr
and The Main Line of Philadelphia, PA
The final step to your massive weightloss journey
Dr. Claytor specializes in post-extreme weight loss plastic surgery.  Many men and women who have successfully lost a significant amount of weight find that they have excess skin that inhibits their ability to feel the joy and confidence they have earned.  This skin or pannus, can be removed enabling clothing to fit better and simultaneously increasing confidence.  Also called belt lipectomy, 360 Tummy Tuck and panniculectomy, the circumferential body lift is performed to remove excess skin from the torso and upper legs.
Who is an ideal candidate?
Candidates for body lifts typically have loose (inelastic) skin on many or most areas of the body as a result of age, childbearing or significant weight loss due to diet, exercise or bariatric surgery. The ideal patient will have reached her weight goal and will have achieved a stable weight for 3-6 months.  It is also important that patients refrain from smoking as this can inhibit healing.  As patients discuss their personal goals with their surgeon, they often find they are a candidate for additional procedures, such as breast lifts, arm lifts and thighplasty to retain a proper body proportion. Body lifts tighten and tone the abdomen, back, buttocks, hips and thighs.
During the procedure, excess skin and adipose tissue are removed. Dr. Claytor will also tighten the abdominal muscles to achieve a flatter abdomen.  Dr. Claytor does not use drains for his 360 degree tummy tuck. Dr. Claytor's expertise enables him to perform a drainless tummy tuck which requires a unique surgical technique leaving a thin layer of scarpas fascia intact. This allows for natural lymphatic drainage which eliminates the need for cumbersome drains.
Dr. Claytor, who teaches the advanced course on scarpas sparing abdominoplasty at the national meetings for the American Society for Aesthetic Plastic Surgery, keeps scarpas fascia intact to act as a lymphatic drainage system. His independent clinical studies demonstrates that fluid collection rate following surgery is actually less than for those patients who use drains. Additional benefits come from less cautery and more discontinuous undermining which allows for improved blood supply and less traumatic tissue disruption.  No-drain tummy tucks are safe and encourage faster recovery.
Patients will wear compression garments for a few weeks to facilitate faster healing.
After surgery, patients are encouraged to walk as soon as they are able to, although strenuous activities must be limited for about a month. Results are visible immediately.
Schedule your consultation with an after weight loss plastic surgery expert
If you are interested in a Body Lift, and would like to see if you are a good candidate, call (610) 527-4833 to schedule a consultation with Philadelphia Top Doctor, Dr. Claytor. Our plastic surgery practice serves patients from Philadelphia, Bryn Mawr, Main Line and surrounding areas.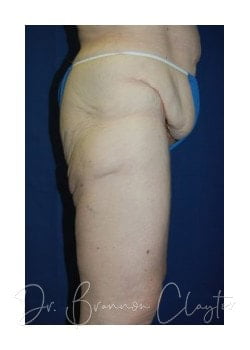 Before Total Body Lift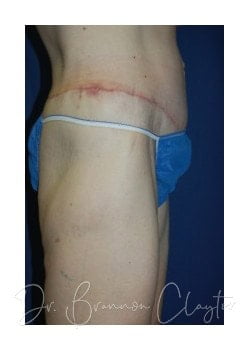 After Total Body Lift
Click Here to View More Before and After Photos in Our Gallery
Request a Consultation
Patient Reviews
Claytor / Noone Plastic Surgery Institute