Facial Aging: Is the Ideal Solution in a Vial?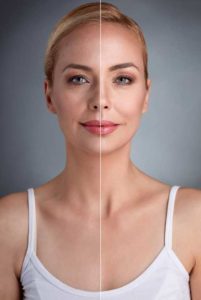 Facial aging isn't characterized only by the appearance of lines and creases on the forehead or around the nose and mouth. Over time, what begins to plague many of the men and women we meet is expressed more like this: "my face is falling." You may know what we're talking about and, if you do, you know the frustration well.
Many of our patients say they don't mind a few wrinkles here and there. They realize that subtle laugh lines and crow's feet actually give the face character. What concerns them is the way tissue drapes facial skeletal structure in a droopier fashion than it had in the past. Patients can accomplish this extent of change in the appearance of the face in one of two ways: with surgery, or without. The question is, which approach is right for you?
A Look at the "Liquid Facelift"
Since the development of injectables like Botox and Juvederm, there has been no looking back at the way things used to be. Facial aging is not something we take anymore. We act early, and we act consistently to diminish problems like volume loss and sagging jowls. Why wouldn't we when treatments are so easy?
The term "liquid facelift" describes a process that rejuvenates the face using injectable solutions. Botox or other neuromodulators relax muscles around the eyes and across the forehead, giving a lifted appearance to the eyes. This same mechanism of muscle-relaxation can turn the corners of the mouth upward, as well. Finally, the vial holds solutions to cheek flattening, undereye bags and dark circles, and a softening jawline. What stands out most to patients is that treatment immediately refreshes their appearance. Additionally, there is no downtime, bruising, swelling, or scarring to contend with.
But is that enough?
We are happy to accommodate patients' wishes for non-surgical treatments, and we are familiar with the numerous benefits of injectable facial rejuvenation. At the same time, we recognize certain situations for which a liquid facelift may not be appropriate. A primary factor in the success of treatment is the condition of the skin. Injectable cannot improve the appearance of skin that has become moderately lax and loose. For this concern, a surgical facelift may be the most appropriate treatment. In addition to lifting skin and superficial tissue, a facelift also secures longer-lasting results.
Schedule a Consultation
Explore the many options for facial rejuvenation available in our Philadelphia area office. Call 610-527-4833.
Posted in: Filler
Leave a response