The News About Botox Just Keeps Getting Better
Botox has been in use as a wrinkle relaxer long enough that it's one of the most recognizable words in the English language. And whether you've used Botox or not, you've probably heard of it, or know someone who has used it. And the use of the product has grown to include treatment for everything from migraine headaches to overactive bladder.
Injectable fillers have also been changing and improving over the past few decades, offering us noticeable and more natural results. Their popularity has continued to grow as we seek ways to achieve a more youthful appearance non-surgically.
So it's not unusual for our patients to make an appointment for Botox and filler at the same time. And a new study is reporting that treating the same areas with Botox can extend filler results.
Botox could give fillers another advantage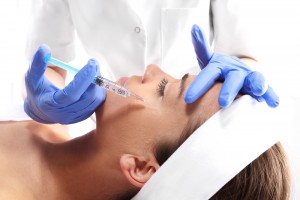 Or maybe it's that fillers are giving Botox another advantage! Earlier this year a study was presented in Plastic and Reconstructive Surgery, the journal of the American Society of Plastic Surgeons (ASPS). It showed evidence that Botox can help prolong the effects of hyaluronic acid fillers, such as Juvederm and Restylane.
Filler results can benefit from simultaneous Botox injections
By using Botox in conjunction with popular hyaluronic fillers, your youthful results could last much longer than if you had filler injections alone. Hyaluronic acid fillers usually last about from 12 to 18 months. In the study, adding Botox to that treatment provided much longer-lasting results.
How it works
Hyaluronic acid is the primary building block for collagen and elastin production, and Botox slows down the breakdown of the filler. That means you could enjoy the results of your injections over a longer period of time.
A winning combination
Combining Botox with hyaluronic acid filler injections could become the new normal when it comes to achieving the best outcomes. You may already be experiencing advantages, as many of the areas treated with fillers and Botox already overlap.
We'll keep you updated
Studies continue to examine the effects of Botox and hyaluronic fillers, and we stay on top of them so our patients can achieve the best outcomes possible. Call for your appointment today: 610.527.4833
Posted in: Articles on Botox procedures | Claytor Noone Plastic Surgery, Face Procedures