Don't Give Your Face All the Attention
Much of our focus for anti-aging treatments is on the face. And with all the laser peels, chemical peels, dermal fillers and Botox treatments available these days, it's getting easier to improve the appearance of your face, keeping it looking refreshed and more youthful. But maybe we don't realize that there are some other areas that give away our age – perhaps even more quickly than the face.
Your neck
Saggy skin on your neck can start appearing fairly early. Retinol can help improve the appearance of the skin on your neck, but a surgical neck lift can be the best option once you need excess skin removed and the area tightened.
Your hands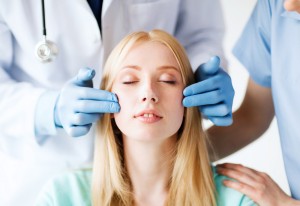 Our hands take a lot of abuse, including exposure to sun and constant drying from frequent hot water washings. Don't forget your hands when you apply your daily sunscreen. Non-surgical treatments can improve the appearance of the skin on your hands and filler injections can help them appear more plump and youthful.
Your chest
The skin on your chest and décolletage can develop deep lines and sun damage spots that can also give away your age. Wear sunscreen on your face, neck and chest every day. IPL and other types of laser and chemical peels can help improve the appearance of the skin on your chest.
Your lips
If you smoke, you might already be noticing vertical lines above and below your lips. Smoking breaks down collagen every time you purse your lips to take a puff. So stop smoking or don't ever start. But the development of lip lines can happen as a normal part of aging, especially if you've had a lot of sun exposure and if they run in your family. Over the years, those deep lines can become more noticeable than your lips themselves. Dermal fillers and laser and chemical peels can help reduce the appearance of lip lines.
Show your neck, hands, chest and lips some love
Make an appointment today to discuss your concerns and the procedures that can work best for you. Call today: 610.527.4833.
Posted in: Skin Care Treatments