A Lift for the Lower Face in About an Hour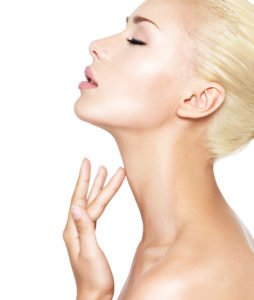 One of the biggest complaints that we hear has nothing to do with lines and wrinkles; it has to do with the falling of the lower face. The loss of volume in the cheeks and the loss of collagen to support dermal thickness and firmness eventually leads to a collection of tissue at the jawline. This decrease in firmness may be one of the most obvious signs of aging to occur on the face. Historically, surgical facelifting has been the go-to method of raising tissue. Not anymore.
In our Philadelphia office, we frequently consult with patients who want to restore a more youthful appearance without a surgical lift. The widespread assumption is that the alternative to a non-surgical facelift is to reduce signs of aging with injectables. There is an in-between, and it may be exactly what you're looking for. We are proud to offer lower facelifts using the PrecisionTxTM method.
PrecisionTx for Precision Results
The turkey neck, double-chin, and jowls that may develop with age can present an enormous challenge regarding self-confidence. To correct them with surgery typically means a few weeks of downtime. The PrecisionTx method of lower face lifting utilizes safe and effective laser energy. The Nd:YAG 1440-nm wavelength laser used during the single, hour-long procedure targets the fat and connective tissue that sits superficially beneath the surface of the skin.
To target these two aspects of the dermis requires only a few tiny incisions that, when healed, are not noticeable. No general anesthesia is necessary due to the small size of incisions and also due to the gentleness of the procedure overall. Through each incision, a tiny probe is inserted across the jawline. This probe emits powerful laser energy inward, toward fat cells that have accumulated beneath the chin and at the jowls. The liquefied fat is then removed through the small cannula. Dr. Claytor will then rotate the probe to target connective tissue, where fibroblasts live. These cells produce collagen. When stimulated by laser energy, their activity increases so, over time, collagen strands beneath the skin become tighter and stronger.
Schedule a Consultation
If you want longer-lasting results than what is possible with injectables, but you're not ready for a surgical lift, come by our office to explore the in-between. Call 610-527-4833 for your appointment to learn more about the PrecisionTx laser facelift in Philadelphia.
Posted in: Precision TX™
Leave a response