A Little Effort Goes a Long Way for Men's Skin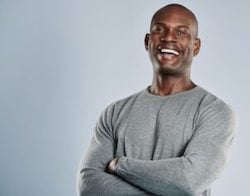 Historically, women have had a reputation for being more mindful about how they take care of their skin. The efforts that have been made through centuries of time are well-known, including Cleopatra's beloved rose-water skin treatments. Today, skin care has gone much more high-tech. It is also a concept that more men are incorporating into their lives. It isn't as though our male ancestors didn't care about their skin, they just may not have taken the same opportunity as women to care for their skin. Here's why the modern man should and how he can.
Male aging affects the face in various ways, and all can be concerning. While society tends to be more lenient about a man with frown lines or worry lines on his forehead, men themselves express a desire to look as young as they feel. What men may miss is the way in which their skin becomes dull over time. This is a simple issue of cellular buildup. From lines and wrinkles to sagging neck skin and a double-chin, the team in our Philadelphia area office can help men feel their best with non-surgical rejuvenation.
Treatments to Rejuvenation the Modern Man
Cosmetic surgery and non-surgical treatments have become more popular among men in recent years. Treatments that do not require much, if any, downtime include:
Chemical peels. Men should not overlook the value of good, controlled exfoliation. Chemical peels are a gentle way of removing debris that includes dead and damaged skin cells. Treatment does not have to involve dramatic peeling and flaking to restore a more vibrant tone to the skin.
Chin sculpting. Double-chin fat is problematic for many men and may not relate to fat at all. Many people develop a double-chin as the skin and connective tissue on the lower face lose firmness. Laxity allows the fat layer to protrude, making the neck and face appear fat when it is not. Kybella and liposuction are both popular ways for men to sculpt their jawline.
Silhouette InstaLift. The InstaLift goes beyond injectables because this treatment doesn't just fill lines and enhance volume, it mechanically secures muscle, fat pads, and skin in a more youthful position. Treatment typically takes less than an hour and results last up to two years.
There are so many ways to improve the aging process that one only needs to choose which they prefer. To learn more about facial and body rejuvenation for yourself or someone you love, call 610.527.4833.
Posted in: Male Plastic Surgery
Leave a response