Say Yes to the Dress: The Best Bridal Boutiques for Wedding Dress Shopping in the Philadelphia Area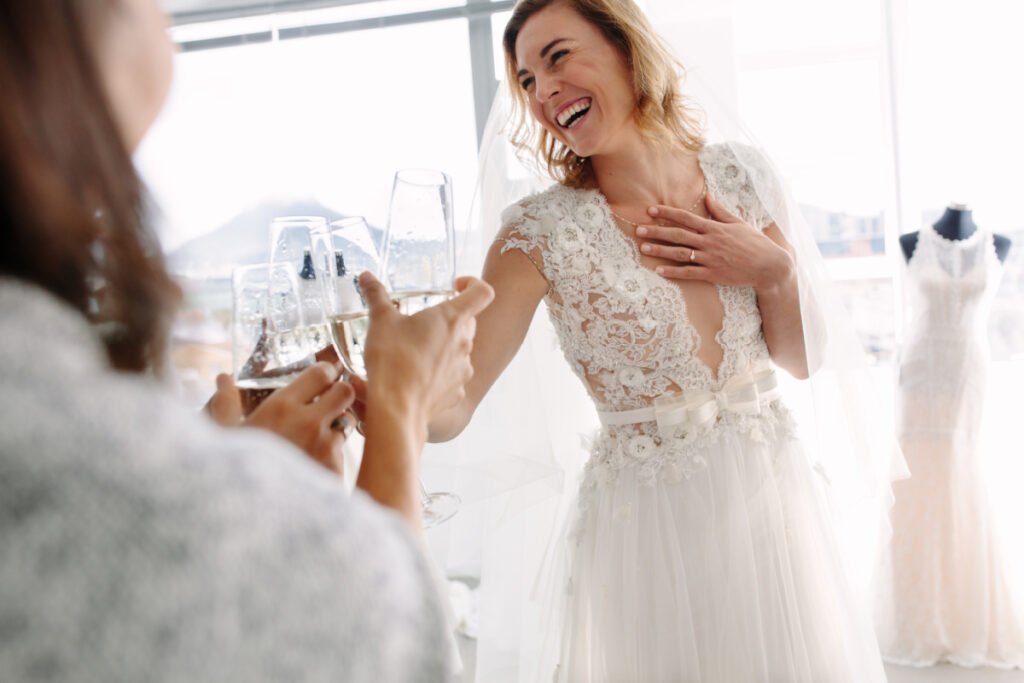 You've said yes to the ring and to your soulmate—now it's time to say YES to the dress! Choosing a wedding gown is one of the most important decisions you'll make as a bride: all eyes will be on you, and you'll want to look your personal best. But finding that perfect dress can be stressful. It's an expensive investment, and you want to find the style and fit that will help you shine while standing the test of time in photos.
We'll start with some proven wedding dress shopping tips that are guaranteed to help you find the gown of your dreams, as well as where to shop for what you need in the Main Line.
The most common questions about wedding dress shopping
When should I start shopping for bridalwear?
Most designer dresses take approximately four to six months to order, followed by one to two months for alterations. We suggest shopping beginning about 9-12 months prior to your wedding date to allow time for a stress-free search and to avoid rush fees.
Are alterations included in the price of the dress?
Nearly every wedding dress needs some type of work, including hemming, bustling, and additional tailoring to ensure it fits perfectly. Alterations are an additional charge and their prices differ based on the gown, tailor, and location.
Is there anything I need to do to prepare for my bridalwear appointment?
There are a number of practical things to do in the weeks before as well as the day of your bridalwear appointment. Here are some key points:
Know your wedding venue before picking out a dress: the dress you'd choose for beach nuptials would likely be quite different from the one you'd choose for a ballroom reception.
Because trying on wedding dresses is time consuming, you'll want to focus on the right styles, so do research to narrow down what silhouettes you love (and dislike) ahead of time.
Check to be sure any boutiques you book an appointment with carry dresses in your size and within your budget.
Wear nude undergarments, including shapewear and a strapless bra, plus heels of the height you'll wear on the big day.
Style your hair roughly as you intend to (up or down makes a big difference) and wear accessories and perfume that will help conjure up the wedding theme in your mind.
Remember this isn't the time to party: come to your appointment sober and bring only a few very select friends or family members whose opinions you trust. Your wedding dress is a very large, personal decision and you'll want to get it right without undue influences!
You can get more smart wedding dress shopping tips here at Brides.com. Most importantly, come to your appointment with an open mind, a sporting attitude, and faith that the right dress is out there waiting for you!
Where should I buy my wedding dress?
While it may be tempting to shop online, or head to a chain store for your dress, we encourage you to find your wedding gown at a locally owned boutique. By going local, you'll find unique styles, enjoy a more personalized shopping experience, and have greater support for alterations and customizations—all while supporting small businesses who are the heart and soul of your community. Not only that: these local boutiques truly care more about you and your wedding! They know looking absolutely gorgeous on your big day matters and that their work helping you do so will reflect well on them.
Wedding dress shopping in the Main Line
We're fortunate to have several high-end bridal boutiques in the Bryn Mawr and Main Line area, where your perfect gown awaits. If you're looking forward to your special "Yes" moment, allow these boutiques to be a part of your big day so you'll be styled to perfection. Reserve an appointment today to see the magic they can create!
Philly Bride
Old City's Philly Bride is passionate about creating a positive and memorable bridal shopping experience. Carly, a former school teacher, purchased the boutique during the pandemic and has created a warm, inviting atmosphere for brides from all walks of life! She and her top-notch team of stylists will even arrange to have your dress cleaned, pressed, and preserved after your wedding.
Sabrina Ann
With locations in both Ardmore and West Chester, Sabrina Ann carries a range of new and resale bridalwear including designer samples, off-the-rack dresses, formal gowns, and bridal accessories. Owner Sabrina Sigler opened the consignment/resale boutique in 2004 with the goal of creating a shopping experience where value, service, and ambiance are prioritized. She and her experienced team of consultants can help you find your perfect look, on a budget.
La Bella Donna
In nearby Jenkintown, Le Bella Donna is a bridal boutique offering an unrivaled, specially-curated selection of gowns in a variety of sizes, silhouettes and price ranges. In addition to wedding dresses, they also offer Mother of the Bride/Groom dresses and tuxedos for the bridegroom. The shop, with its newly renovated private fitting rooms, offers an intimate, tranquil setting for brides and their guests, paired with personalized consultants/stylists who are patient, professional, and judgment-free. The best part? The shop is located just steps away from other stores and restaurants so your group can go from shopping to celebrating within minutes!
The Wedding Factor
Located in historic Old City, The Wedding Factor is a full-service bridal salon offering designer wedding dresses, formal gowns, plus-size wedding dresses, handmade veils, jewelry, headpieces and accessories from around the world. With five private dressing rooms, master seamstresses on staff for custom alterations, and knowledgeable bridal fashion consultants, The Wedding Factor delivers the ultimate full-service bridalwear experience.
The Ivory Concept
Their tagline says it all: "Unique gowns for the exceptional bride". The Ivory Concept is an upscale boutique in Malvern specializing in designer dresses with a modern, boho vibe. Appointments are required, so you get a one-of-a-kind private shopping experience without feeling rushed or pressured. It's also owned and managed by a mother-daughter duo who welcome you in as part of their family. Check out their exquisite Instagram feed and get swept away!
Van Cleve Bridal
Van Cleve Bridal is an award-winning full service bridal salon on the Main Line offering wedding dresses, evening wear, accessories, expert alterations and more! Owner Deborah Van Cleve has been in business for over 30 years, providing personalized service and an unbeatable selection of over 1,000 gowns. Deborah and her design consultants take the time to learn about each our of clients' style preferences, event details, and budget. Their newly remodeled space is complete with a mini runway and full-mirror walls where you can relax with a glass of champagne.
And don't forget….
Dress alterations or restoration
Nilah & Company is a Havertown-based group of dressmakers and tailors who have been making brides' dreams come true for over 33 years! Currently a member and past president of the Custom Tailors and Designers Association of Philadelphia, Nilah was the first sole proprietor female to join in its 100 year history. She and her all-female team of artisans specialize in bridal gown alterations, vintage wedding gown restoration or transformation, gown cleaning and preservation, and custom wedding veils designed with expert level precision and skill.
Aesthetic procedures for face & body
Whether you're a bride, a bridesmaid, or the mother of the bride or groom, Claytor Noone Plastic Surgery in Bryn Mawr has many options to help you put your best foot forward for the big day. Double-board certified plastic surgeon Dr. R. Brannon Claytor and our team of aesthetic experts provide a full selection of rejuvenating wedding treatments and cosmetic procedures for the Philadelphia and Main Line area.
To help refresh your skin and refine your shape, we can design a personalized timeline of nonsurgical treatments such as skin peels, laser resurfacing, light therapy (IPL), microneedling, CoolSculpting, HydraFacial, injectable dermal fillers, laser hair removal, or custom facials. With surgical options, we can additionally improve virtually any aspect of your appearance you wish to tune up, with procedures including SmartLipo®, upper lid blepharoplasty, or facelift.
In addition to being featured in a multi-page spread in Modern Luxury Weddings – Philadelphia, Dr. Claytor has been recognized as a RealSelf Top Doctor and a Top Doctor of 2021 by Philadelphia Magazine. To set up your personal consultation and learn how Dr. Claytor can help you achieve your aesthetic goals for your upcoming wedding, call our practice at 610.527.4833 or reach out to us online today.
Posted in: Local Community