What You Need to Know About Liposuction and Swelling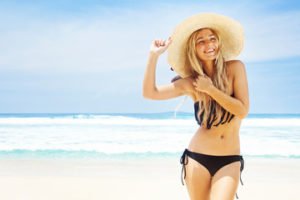 Liposuction is a well-known and very safe cosmetic surgery procedure that has helped millions of men and women achieve the contours they want. Over the years, the way that liposuction is performed, or with which technologies or technique, has changed to improve patient outcomes. For instance, laser or ultrasound-assisted liposuction may decrease bleeding and, therefore, post-operative bruising compared to the original liposuction technique.
Bruising is a natural side-effect of any surgery, as is swelling. Here are some details that you need to know to make your recovery process that much better.
Post-liposuction swelling is not a short-term side effect
After liposuction, tissue is in "settling" mode for many months. The bulk of post-operative swelling decreases during the first few weeks after surgery. However, the full extent of healing occurs much more gradually. Don't worry. This does not mean that you will look swollen. The effects grow more and more subtle with time.
Expect ups and downs
Yes, there may be ups and downs regarding your feelings after cosmetic surgery, but we're talking about swelling. After the first few weeks, when substantial healing takes place, you may notice that your surgical area appears more swollen on some days and less on others. A lot of the time, this boils down to physical movement. When you start moving more, areas of the lower body that have had liposuction, such as the thighs, may retain fluid for short periods of time. On the other hand, areas on the upper part of the body, such as the arms, may swell when movement is lacking. In either situation, elevating that part of the body can reduce the side effect.
Compression is your friend
One of the post-operative instructions that patients seem to dread, but end up loving, is compression. Compression garments support the tissues as they heal after liposuction, and may also secure drains if any are placed. The support that is obtained with compression eases swelling and can improve comfort.
Remember, recovery means rest. It means listening to your body, not pushing to resume physical activity. Doing so will increase swelling and also exacerbate the risk of bleeding.
Are you in the Bryn Mawr area and interested in learning more about liposuction? We'd love to speak with you. Call 610-527-4833.
Posted in: Liposuction
Leave a response