Men's Facelifts—A Facelift Surgeon Explains How to Get Masculine, Natural-Looking Results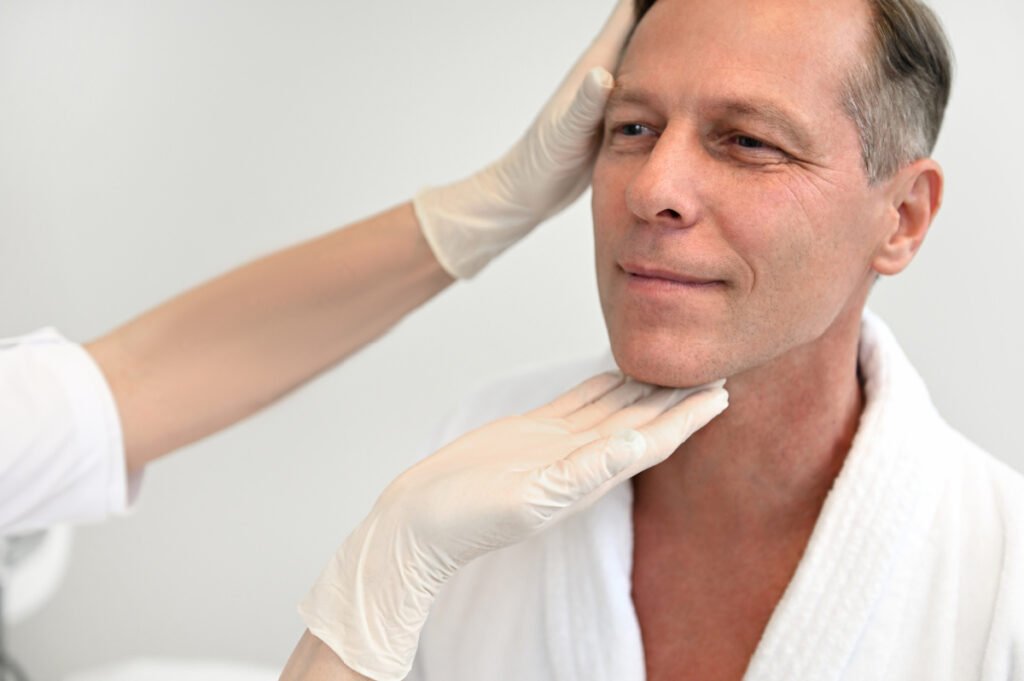 Men are a growing percentage of facelift patients, and male celebrities, such as fashion designer Marc Jacobs, as well as men across the U.S. are regularly choosing facelift surgery to restore a more youthful appearance. However, not all facelift surgeons understand how the procedure should be modified to preserve a manly appearance. Here, Philadelphia double board certified plastic surgeon Dr. R. Brannon Claytor explains how male facelift techniques can help you achieve natural, masculine-looking results.
Facelift surgery was the 6th most popular plastic surgery procedure for men in 2021.
How men's facelifts differ from women's
Regardless of your gender, facelifts achieve transformative anti-aging results by tightening the underlying facial musculature, repositioning and removing fat, and excising loose skin—however, facelifts for men feature some minor technical differences from traditional facelifts. Plastic surgeons must consider a number of factors for male patients that can greatly influence results.
Men's facial hair
Men's facial hair usually dictates the facelift incision type and placement. Surgeons must be careful to place incisions in a manner that avoids disrupting facial hair follicles or causes excessive scarring which may impact hair patterns and growth. The lifted effect is achieved by pulling the beard line closer to your ear. To conceal the scars, your surgeon will place incisions in front of and behind each ear and within the hairline.
Men's facial structures
As men typically have stronger facial skeletal and ligament structures compared to those of women, surgeon's should be careful not to excise too much muscle or overly pull the skin—which may create an obviously surgically-altered or feminized appearance.
Male facelifts tend to focus more on the lower half of the face as the loss of youthful fat pads and waning muscle strength, particularly around the jawline and in the mid face, often lead to the appearance of jowls, diminished definition around the jaw and chin, and a drooping facial appearance.
Men's aesthetic preferences
Men generally seek different facelift outcomes than women. As such, male facelift procedures should be modified to deliver a lifted appearance and remove unwanted bulk from the neck, while preserving classic masculine characteristics including a sharp, well-defined chin and jawline—this is in contrast to the more graceful contours most female facelift patients seek.
It is especially important to avoid surgical overcorrection with male facelift patients; certain indicators of age are positively associated with mature masculinity and contribute to a distinguished appearance.
When the facelift procedure plan extends to full facial rejuvenation including the eyes and brow, here again we must modify the procedure plan. Men generally have fuller eyelids and a heavier brow line, which your surgeon should consider as they rejuvenate these features to avoid creating a feminine or unnatural look. Maintaining a natural shape when addressing the eyes, preserving a masculine degree of upper eyelid hooding, is the mark of an expert plastic surgeon who is highly-experienced with male facial rejuvenation.
---
Choose the best facelift procedure for your anatomy
With years of experience offering deep plane facelift in the Main Line and Philadelphia area, Dr. Claytor finds this technique is almost always the most effective procedure for achieving natural-looking results for men. Men's skin is heavier and thicker, especially around the jaw and neck areas, and this advanced technique is well-suited to handling this challenge: a deep plane facelift allows a surgeon to make deeper adjustments to the facial ligaments that tether the SMAS (superficial muscular aponeurotic system), providing more support for the surface skin, resulting in longer-lasting, more natural looking results. By using a deep plane facelift technique, the neck and upper chest of male facelift patients can also be lifted and tightened to achieve a more complete, rejuvenated appearance.
Additionally, deep plane facelifts can be accomplished with fewer incisions—a significant advantage when considering shorter hairstyles and hair loss in men can make concealing facelift scars more challenging.
Only a board certified plastic surgeon who specializes in this technique should be trusted to determine if a deep plane facelift is preferable over other facelift procedures for men. An expert surgeon will evaluate your facial structure, skin elasticity, and goals before recommending a treatment plan optimized to achieve lifted yet masculine results.
---
Add complementary procedures to your facelift
To achieve full rejuvenation in Bryn Mawr, you may consider adding additional procedures and treatments for more complete results.
Facelift for men in the Main Line
We hope this educated perspective on male facelifts empowers you in your procedure and provider choices.
If you are in the Main Line area, we invite you to consult with Philadelphia double board certified plastic surgeon Dr. Brannon Claytor at Claytor Noone Plastic Surgery. Dr. Claytor is a highly-respected plastic surgeon well-known for his commitment to safety and expert surgical skills—his deep plane facelift techniques have been featured in Haute Beauty. Designated one of Philadelphia Magazine's Top Doctors for 2021 and 2022, a Main Line Today Top Doctor from 2017-2021, and one of "America's Best Plastic Surgeons of 2021" by Newsweek, Dr. Claytor is the premier choice in the Main line and Bryn Mawr areas for achieving natural-looking facelift results for men. To schedule your free consultation, call our practice directly at 610.527.4833 or request more information about our services online.
Posted in: Facelift, Male Plastic Surgery