Look Better in the New Year with an InstaLift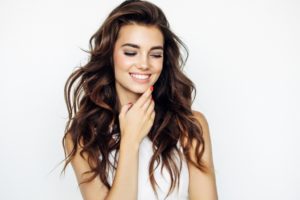 Many adults would like to regain their youthful vibe by correcting signs of aging on the face. Historically, the way to do this has been with a surgical facelift. As scientific advances have taken place, a number of non-surgical modalities have been developed to turn back the clock without forcing downtime or exposure to risks. One way in which we help our patients look as young is with the Silhouette InstaLift. If you would like to feel more like your best self in the new year, we invite you to learn more about this minimally invasive facial lifting treatment.
What is Silhouette InstaLift?
Silhouette InstaLift is a type of thread-lift technique – one that goes above and beyond in terms of safety and efficacy. This procedure is performed in the office with great care taken to ensure comfort (local anesthetic) and optimal results (a seated position that shows the effects of gravity). An InstaLift works by securing dermal tissue in an upward position. This is achieved by inserting a dissolvable suture that has bi-directional cones along its length from a lower point on the face to a higher point. The doctor determines the positioning of the suture based on the natural aging of the face. As the thread is moved through the tissue, the bi-directional cones catch and lift for beautiful, natural results.
Why an InstaLift could be Exactly What You Need
There are several reasons why more patients of all ages are undergoing the Silhouette InstaLift, including:
•    Immediate results. As soon as the cones on the dissolvable thread catch superficial tissue, they lift upward, allowing the doctor to contour the face appropriately so the jawline looks more angular and the cheeks look higher and more rounded.
•    Ongoing improvement. Beyond the immediate restructuring of the skin's foundation, an InstaLift provokes an increase in collagen production that, over time, naturally remodels the matrix of structure within the dermis. Months after treatment, when the suture has dissolved, the face continues to appear firm and contoured thanks to the influx of collagen.
•    No downtime. Arranging for a surgical recovery can be overwhelming, regardless of the anticipated outcome. With the Silhouette InstaLift, patients can resume normal activities right away. It is even possible to undergo additional cosmetic treatments the same day of an InstaLift to maximize the rejuvenating benefits achieved.
We enjoy helping our patients feel like their best selves. To learn how a Silhouette InstaLift can benefit you, contact our Bryn Mawr office at 610.527.4833.
Posted in: Facelift
Leave a response