Get an Instant Boost with a Silhouette Instalift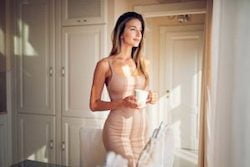 Aging affects the face in a number of ways. First, we may notice a few lines around our eyes when we laugh. Over time, creases may develop around the mouth and small pockets of skin may droop from the jawline. Even with excellent skin care, the internal biological changes that occur in the body eventually lead to tissue laxity. This doesn't just happen in the uppermost layer of the skin. Laxity happens in the muscle structure far beneath the surface. This is why some type of lift may become a necessity.
Historically, facial rejuvenation has involved surgical lifting. A surgical facelift can be advantageous when performed by a board-certified plastic surgeon with a conservative hand. However, there is no way to avoid the downtime that surgery incurs. More recently, adults of all ages are turning toward minimally-invasive nonsurgical approaches to correct the signs of aging. In our Bryn Mawr office, this may be achieved with a Silhouette InstaLift.
What is Silhouette InstaLift?
Some may refer to the Silhouette InstaLift as a thread lift. When this term is used, it is important to understand how technique affects outcome. The Silhouette InstaLift is a nonsurgical procedure in which degradable filaments are inserted in specific locations on the face. Treatment is tailored to the individual to address concerns including:
Downturned mouth corners
Flat, sagging cheeks
Jowls
Nasolabial folds and Marionette lines
How the InstaLift Differs from Outdated Thread Lift Techniques
What is different about Silhouette InstaLift is that this procedure involves the insertion of varying lengths of sutures that contain tiny cones. These cones are smoother and less prominent than the barbs that may have been on threads used years ago. Placed into the fatty layer of tissue beneath the skin, the cones on the Silhouette sutures lock deeper tissue into place, securing a lifted appearance that looks completely natural. No tracks or overly tight skin. The sutures used in a Silhouette InstaLift are made of sugar molecules that naturally dissolve over time. While the sutures are in place, the body responds to them by producing more collagen around them, further improving the appearance of the skin over time.
A natural-looking lift can provide you with immediately satisfying results. Learn more about Silhouette InstaLift treatment by scheduling your visit with us at 610.527.4833.
Posted in: Facelift, Non-Surgical Procedures
Leave a response