There's Still Time to get Holiday Ready!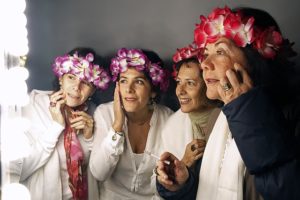 This time of year piles more on our plate that we may know what to do with. While we busy ourselves with all the holiday hoopla, we also want to know that we will feel our best when the time comes to revel in the holiday cheer with friends and family. If what you see in the mirror only reminds you of the sleep you're not getting, or the number of birthday candles that were on your last cake, come see the team at Claytor Noone Plastic Surgery. Many of the treatments that are so popular today provide you with immediate or fast results, giving you the confidence you deserve this holiday season.
Wrinkle Reduction
Of course we do not want our wrinkles to show up in all those holiday photos! Using neuromodulators such as Botox, we can help you revitalize the appearance of your eyes. These products have been used extensively for the reduction of crow's feet, frown lines, and even for non-surgical brow lifting. Just remember, it takes about a week for the full extent of results to show up, so schedule your visit to our Bryn Mawr office accordingly.
Fat-Reduction
Results from non-surgical fat reduction with CoolSculpting start to become noticeable after 2 to 3 weeks, and continue to improve over months. If there is a certain LBD you want to wear for New Years Eve, consider an early-holiday fat-reducing treatment. Because each of these procedures is completely non-invasive, very little time is needed for your office visit – and there's no downtime.
Volumizing Facial Treatments
Flat cheeks, deflated lips, and creases around the nose and mouth make us appear older, sometimes much older than we feel. The holidays are a time of child-like wonder, so we want our inner youthfulness to be reflected in our appearance. Claytor Noone Plastic Surgery offers a number of options for filler products. During your consultation, we can discuss which approach may be best for your concerns and expectations. Fillers achieve an immediate, beautiful change in your skin, so you can schedule treatment up until a few days before your big event.
Schedule a consultation
Let's get Holiday Ready! Call 610-527-4833. Claytor Noone Plastic Surgery serves Philadelphia, Bryn Mawr, Main Line PA and surrounding areas.
Posted in: Face Procedures
Leave a response