Summertime Wedding? There's Still Time to Refresh!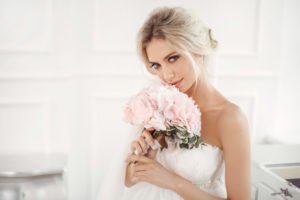 Weddings have a way of making us want to look as good as we feel. On the happy day, whether you are in the spotlight or in the front row, you want your face to reveal the happiness and energy you feel on the inside. Often, wedding planning takes up so much time that those in or close to the wedding party (Hello, Moms and Dads!) believe they've missed their chance to correct those stubborn cosmetic flaws before the big day. This isn't so. Here, we want to point out how easy it can be to feel like a star at that Summertime wedding.
Refreshing the Eyes
The eyes are one of the first places on the face to start looking old and tired. Lines and creases around the eyes tend to be more noticeable in pictures, which is one reason why so many brides get Botox treatment before their special moment. Lines are only one problem that may need to be addressed, though. To refresh the eyes, it may be necessary to correct:
Undereye bags
Drooping eyebrows
Heavy or crepey upper eyelids
Furrowed brows
Our team has the skill to address each of these problems within a short time. You may be surprised to know that it's possible to have eyelid rejuvenation surgery, blepharoplasty, just a few weeks before a Summertime wedding. The downtime in which bruising and swelling gradually subside is typically 10 to 14 days. If surgery sounds like too big a leap, most of the issues that affect the eyes can be addressed with injectables like Botox and dermal fillers. Much less downtime, still great results.
Fitting into That Dress (or Suit)
Summertime weddings are an invitation to put on a little something special that you might not wear on normal occasions. A tummy pooch, spare tire, or jiggly thighs can interfere with feeling as good as you'd like. Here again, you may be surprised at what is possible with only a few weeks left before the special event. Excess fat can be expertly removed in our Bryn Mawr office utilizing the SmartLipo technique. This minimally-invasive procedure does not require general anesthesia, only a local. Because SmartLipo melts fat cells, extraction is simplified and downtime is limited to one to two weeks. And when we say downtime, we mean that there will be slight swelling and bruising.
The countdown to wedding day may have begun, but you've got time to address your cosmetic concerns. Call 610.527.4833 to explore the numerous ways in which we can help.
Posted in: Face Procedures, Non-Surgical Procedures, Plastic Surgery