Ways to Eliminate Undereye Bags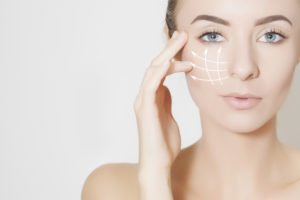 The tissue around the eyes is delicate than most other areas of the body. This is why we tend to see signs of aging on the eyelids before anywhere else on the face. As the decline of collagen and elastin progressively thins and weakens the skin and underlying connective tissue, many people notice worsening bags under their eyes. Undereye bags are a common problem that may seem to involve the accumulation of fat. Not so. The reason for most bags is that the subcutaneous fat that already exists beneath the eyes protrudes against lax skin.
We could talk for hours about the reasons the body ages. This isn't what truly interests most people. What we want is to discover what to do about the undereye bags that are severely aging the face. In our Bryn Mawr office, we've got several ways. This allows patients to consider the benefits of both surgical and nonsurgical options.
Blepharoplasty for Long Lasting Results
Blepharoplasty is the eyelid surgery intended for the permanent revitalization of the face. Although age continues to affect the skin over time, the manual repositioning and trimming of fat and dermal tissue usually do not need to be repeated. Patients who undergo blepharoplasty can choose to correct undereye bags only or to also include the upper eyelids into their procedure if needed. The procedure focusing on only the lower eyelids may take less than an hour. Post-surgical healing occurs over a two-week period, and most patients are able to return to work within 10 days.
Injectables for Immediate Eyelid Rejuvenation
It isn't necessary to wait for surgery to address the issue of undereye bags. Many people turn to dermal fillers first. This gives them the opportunity to see what they may look like if they do decide to have surgery to eliminate undereye bags. Dermal filler treatment does not get rid of saggy, weak tissue like blepharoplasty does. This treatment is all about camouflage. By injecting filler into the uppermost cheek, we smooth the transition of skin toward the lower eyelid. Adding volume into this area makes the appearance of bags disappear. Treatment takes less than 30 minutes and results can last up to 2 years.
In addition to these two primary undereye bag treatments, we also offer fractional laser resurfacing, microneedling, and medical grade skin care services. Each of these supports optimal collagen remodeling for younger-looking skin.
We love helping patients look like they feel. Learn more about eyelid rejuvenation at 610.527.4833.
Posted in: Eyelid Surgery
Leave a response