The (Weird) Story of Freezing Away Fat
Most of us have one or more areas where fat is simply stubborn, and won't budge, no matter how much we diet and exercise. But you shouldn't give up, or think that liposuction surgery is the only solution. Here's why.
Discover CoolSculpting
This non-invasive cosmetic procedure freezes fat cells, causing them to die and gradually be eliminated naturally by the body. If this sounds like something you've only wished was possible, keep reading.
A little history
The evidence that cold could affect fat cells was first noticed some 40 thirty years ago, when a group of Russian children started losing fat from their cheeks. It might have been attributed to extreme cold winter temperatures in that country, but there was more going on.
Doctors were frozen
Why would young, healthy kids lose fat in their faces? It was a mystery until doctors figured out that the children shared one common trait: they all frequently sucked on popsicles. And somehow, the constant popsicle habit was causing the fat loss.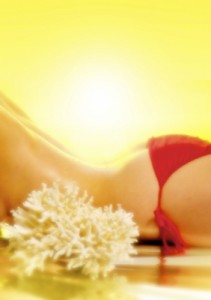 Over the next several decades, this weird finding was analyzed, eventually coming to the attention of scientists who studied the process of cryolipolysis, or fat freezing.
Many years of testing and research led them to develop CoolSculpting, a machine that could provide a safe method for reducing minor deposits of unwanted fat.
Strange but cool
It seems that extreme cold affects fat cells, and the development of CoolSculpting has made it possible to harness and target the phenomenon, so that it can lead to improved body contours.
Results appear gradually
The effects take time to appear. A few weeks after the treatment, you'll notice small improvements as the fat layer continues to reduce. Full results are usually visible after two months, at which point you and your doctor can decide if another treatment is necessary. Most patients see 20–30% fat reduction (the end of a stomach pooch). Once the targeted fat cells are destroyed, they don't return. If you gain weight, it shows up in areas that haven't been treated by CoolSculpting.
Learn more about CoolSculpting by calling for a consultation appointment today: 610.527.4833.
Posted in: CoolSculpting