CoolSculpting Can Help with Your Fitness Goals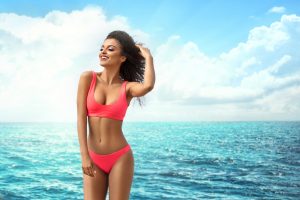 Not too long ago, at the beginning of this new year, many people sat down to consider what they'd like to accomplish. Often, those New Year resolutions include taking better care of the body. What's hidden in that intention is a desire to feel better and also to look better. So, when we get to this time of year where we've been putting in some effort, we expect to see some results. If you've made changes to your lifestyle to achieve a fitness goal and you're not seeing the improvements you thought you would, maybe it's time to see how CoolSculpting can help you along your way. Being that we're halfway to the summer season, now is a great time to consider what body contouring can do.
What is Coolsculpting?
You may have heard of CoolSculpting and know it as a "fat freezing" treatment based on clever marketing. This is one way of describing the process known as cryolipolysis. When research revealed that exposing fat cells to very cold temperatures caused them to die, scientists found a way to use this to our advantage. The FDA-cleared CoolSculpting device holds an area of tissue, such as the lower abdomen within its applicator. This applicator delivers precise temperatures that penetrate safely through the skin without effect. When cooled for some time, fat cells form crystals. The crystals destroy the fat cell membrane and signal the body to flush the affected cells in the lymph. This process can reduce fat cells by up to 25% in the targeted area.
CoolSculpting isn't About Weight Loss, Though
CoolSculpting is described as a body contouring treatment. It isn't about weight loss. It isn't about getting fit, either. So why would we say that CoolSculpting can help you with your fitness goals? It's a matter of mindset. We are somewhat built to naturally believe in cause and effect. Therefore, we may hold an unconscious belief that "If I do this (eat well and exercise), I will get that (a better body)." To achieve a goal takes motivation that needs to sustain us until we start to see results. By stimulating the natural elimination of fat, CoolSculpting is a great complement to the healthy habits we've developed.
Are you feeling frustrated at your body's lackluster response to diet and exercise? Contact our Bryn Mawr office at 610.527.4833 to learn more about CoolSculpting.
Posted in: CoolSculpting
Leave a response