Is Your Exercise Letting You Down? Here's the Right Way to Lift the Breasts!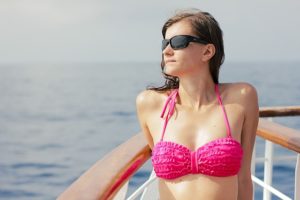 Using diet and exercise, we can do the body a lot of good. Exercise helps us feel more energetic, and may even help us live longer. But to the important question at hand: can exercise be used to lift the breasts? If you look around online, you would think so. You may commit to a gym membership so you can hit the weights for bench presses and fly's. You may do a gazillion pushups every week, or spend multiple hours each month moving from plank to downward dog to work the pectoral muscles. If you have been doing this and not seeing results, there is a reason why – and it certainly isn't your commitment!
The fact of the matter is that there is rarely a woman who can say wholeheartedly that exercise and healthy eating have led to higher-positioned breasts. It's just not likely, and here's why: the pectoral muscles sit beneath breast tissue. In this location, the pecs do not – and cannot – act in much of a supportive role in terms of where the breasts fall on the chest wall. Toning up the pectoral muscles may have a bit of a positive impact on overall physique, but there's more going on here, and exercise alone cannot address it.
Why Breasts Change over Time
You know the normal culprits of breast sagging; pregnancy, nursing, aging, weight loss. Each of these experiences causes and expansion and subsequent deflation of breast tissue. When the breasts enlarge during pregnancy and breastfeeding, the overlying skin stretches. Often, it does not fully bounce back. And even if it does, it has lost some of its resiliency, so when aging depletes skin-supporting collagen from every part of the body, the fragile skin on the breasts gives in to gravity.
Get Help for Sagging Breasts
More women are turning to breast lift surgery to regain the good feelings they once had about their body. This procedure is performed with the intent of taking what is there and restructuring the natural tissues so they sit higher and present a curvier profile.
Schedule A Consultation
You don't have to accept changes in your body as a new norm. Learn how breast lift surgery can give you back the curves you love. Call our Bryn Mawr office at 610-527-4833. Dr. Claytor serves Main Line, Bryn Mawr, Philadelphia and surrounding areas.
Posted in: Breast Lift
Leave a response