Want the natural look of silicone implants with the safety of saline? Read this about IDEAL breast implants.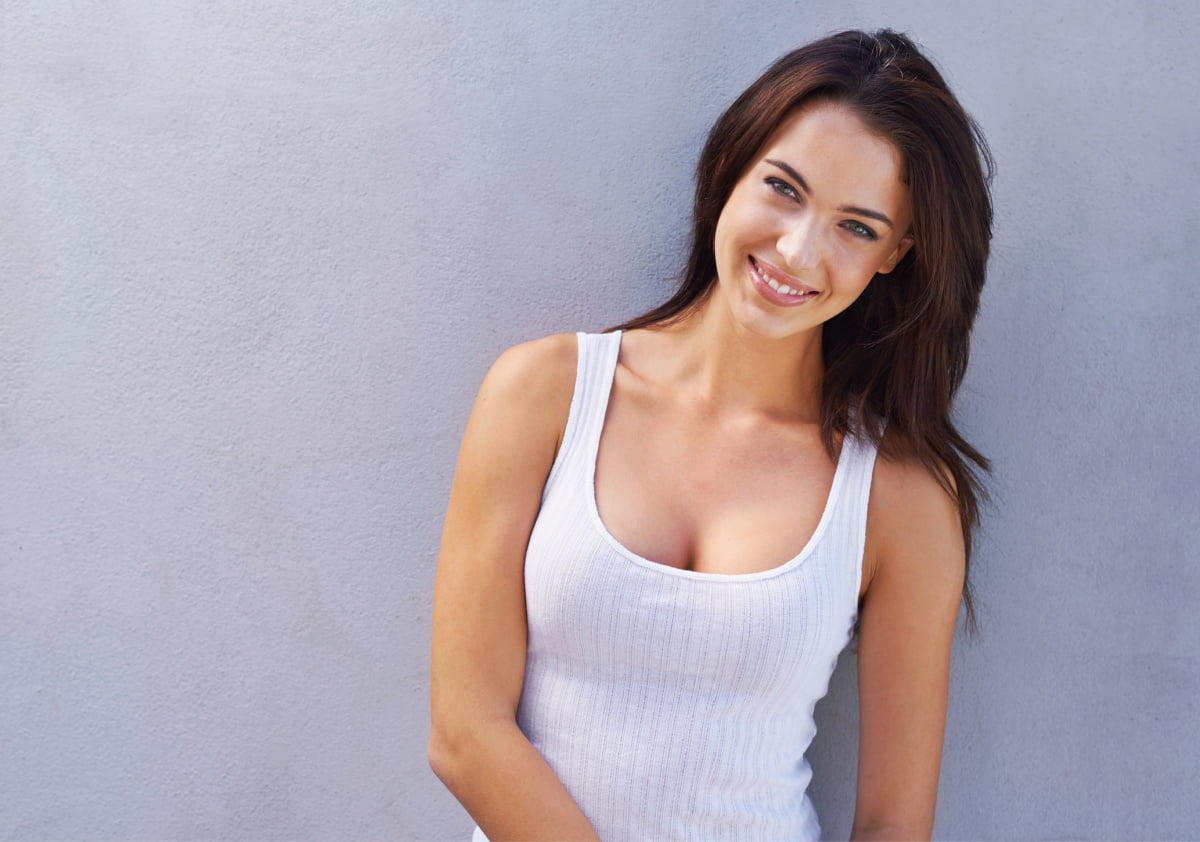 Choosing breast implants? You are likely considering both the aesthetic benefits certain implants may offer, while also reading everything you can about implant safety. For the best of both worlds, more and more women are choosing IDEAL breast implants—a structured silicone-shell implant that contains a saline (sterile saltwater) filling. Keep reading to learn all about the most advanced generation of breast implants that promises both safety and gorgeous, natural-looking breast augmentation results.
Aesthetic benefits of IDEAL implants
IDEAL implants offer a similar aesthetic to silicone implants: they have a cohesive feel and a look that mimics natural breast tissue. You can expect your IDEAL implants to:
Support the fullness of the upper pole of your breasts when upright (no sagging).
Control fluid movement within the implants to prevent "sloshing."
Have sturdy and supportive implant edges that are less prone to rippling, which traditional, single-lumen saline implants without internal structure are prone to do.
Have tapered edges that conform to the chest wall without bulging at the lateral breast envelope, or the outer edges of the breasts near the underarms.
Like silicone and saline implants from other brands, IDEAL implants are available in a range of sizes, volumes, and profiles, so we can customize your results to achieve nearly any preferred aesthetic with IDEAL implants.
IDEAL breast implants offer the peace of mind of saline-filled implants with the aesthetic benefits of silicone implants.
IDEAL implants have a supportive internal structure
Wondering how these benefits are possible from a saline-filled implant? It's all thanks to the advanced internal structure within the IDEAL implant, which supports the shape of the outer shell.
A typical saline- or silicone gel-filled breast implant consists of a silicone outer shell filled with the liquid or gel, but IDEAL implants contain a structured internal matrix, with multiple compartments where saline is held to create greater tension and therefore better structural support.
Here's what you need to know about the inside of the FDA-approved IDEAL implants:
The implant consists of a series of 3-5 nested implant shells (this varies depending on the implant's cc volume and size).
The implant contains two separate chambers (lumens) for holding saline, each with a separate valve (front and back) that your plastic surgeon uses to fill the implant before or after placement.
The internal shells, or baffle shells, also contain slit perforations to limit the flow of fluid between them. These perforations change the fluid mechanics of the saline, resulting in a viscosity of saline that more closely resembles the viscosity of silicone. This makes IDEAL implants perform much like silicone gel-filled implants after placement.
IDEAL implants offer the peace of mind of saline
Implants are a long-term investment, so avoiding complications is at the top of everyone's list when it comes to breast augmentation. Ten-year data from FDA trials show that IDEAL implants have lower rates of two major complications, capsular contracture and implant rupture, when compared with popular silicone gel-filled breast implants.
In addition to data that show fewer complications, much of IDEAL implants' safety comes from the fact that they are saline-filled breast implants. This means that in the case of an implant rupture—a complication in which the outer silicone shell is broken and the implant deflates—the saline filling is safely reabsorbed into the body. You will see your breast visibly deflate, clearly alerting you to the issue so that you can contact your surgeon and plan next steps.
The internal IDEAL implant structure holds the saline filling in such a way that supports a contoured breast shape.
Silicone breast implants, on the other hand, may have what is called a "silent rupture," or an unknown rupture. A silicone breast implant rupture can only be detected by MRI or ultrasound imaging scans, meaning that patients with these implants must have them regularly checked.
Overall, rupture is relatively uncommon, yet it becomes more likely the longer your implants are in place. When it comes to what you put inside your body, many women find that saline-filled implants offer greater peace of mind. IDEAL implants have been FDA-approved since 2014 and have undergone extensive safety studies; they also have demonstrated high rates of patient satisfaction long-term.
Bryn Mawr plastic surgeon Dr. R. Brannon Claytor is an official preferred surgeon for IDEAL implants
If you choose IDEAL implants, in particular, it's key to find a surgeon who has given many patients like you excellent results with this unique implant. In addition to offering the full range of breast implant options, Dr. R. Brannon Claytor is an IDEAL implant preferred surgeon with many years of experience performing IDEAL implant breast augmentation. Patients in the Bryn Mawr, Main Line, and Philadelphia area may schedule a consultation today by calling 610.527.4833 or contacting us online.
Posted in: Breast augmentation