Breast implant size
Breast size is a very personal and intimate decision. First it is important to have a good understanding about what size you "truly" are. Many bra companies confuse women with the non-standard bra sizing system. Getting sized by your plastic surgeon gives you a better idea of what cup size you are starting with. It is not uncommon for women to come in for a consultation thinking they are a "B" cup when in fact they are a AA. In this case there is a mismatch right from the start which can lead to dissatisfaction after surgery.
While it is not always correct due to variations in patient size and body frame, a benchmark for sizing is that each 100 to 200 cc of implant volume translates into increasing by 1 cup size.
The other very important variable is the base diameter of your breast. This measurement helps apply mathematics to the art of breast augmentation. The base diameter dictates the maximum size of the width of the implant. Based on these variables a trial size implant can be selected and "tried on" digitally thru a 3-D imaging software. We use Crisalix software which involves taking a 3-D image and digitally adding any size breast implant to see wha the post operative result would look like.
While this is a "Pixar" like visual appearance it does give the patient a very good idea of what she would look like.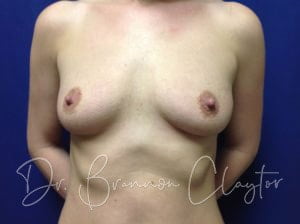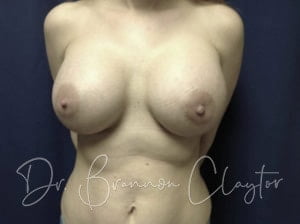 Posted in: Breast augmentation
Leave a response