Breast Implant Removal Done Right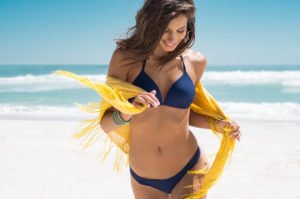 More than 300.000 breast augmentation procedures were performed last year alone, with just as many expected for the current year. Understandably, this procedure is popular because it allows a woman to achieve the shape she pictures for herself. Also understandably, a woman who undergoes breast augmentation may expect that she will love her new look indefinitely. This doesn't always happen. In certain circumstances, women choose to have breast implants removed. Some studies suggest that up to 20 percent of patients reach this decision at some point. If you are one of them, you want to know what happens after breast implant removal and how to ensure you achieve an outcome you will love as much or more than your initial augmentation.
Why Choose Breast Implant Removal?
In our office near Philadelphia, we have performed breast implant removal for numerous different reasons. For some women, the decision is a matter of no longer liking the larger size of their breasts. For some, natural changes in superficial tissue have caused breasts to sag, leading to self-consciousness and discomfort. Breast implants may also be removed for functional reasons.
Saline implants can create a rippled appearance beneath the skin, especially when used to fill out breasts with insufficient natural fatty tissue.

Scar tissue formation around a breast implant, known as capsular contracture, may become severe enough to alter the shape and feel of the breast. In some cases, capsular contracture causes physical discomfort.
Options for Breast Implant Removal
The idea that once you have breast implants you must always have breast implants is incorrect. While many women who remove initial breast implants do replace them with another size or shape, there are more women choosing to remove implants altogether. How does this look in real life? After having larger breasts for years, can breast tissue look natural without implants? Yes, it can.
Breast implant removal can be performed for any reason. Depending on the condition of the skin and the expectation of natural retraction after implants are removed, a woman may choose to simply have her implants taken out and nothing more. More often than not, though, a surgeon will recommend that a breast lift be performed in conjunction with implant removal. This is because muscle, connective tissue, and skin have all stretched to accommodate implants. When structure is removed, there is a higher likelihood that the breasts will droop unattractively. Breast lift alongside breast implant removal allows the surgeon to refine the shape of the breasts to appear naturally perky in their smaller state.
Patients of Claytor Noone Plastic Surgery can expect compassionate care from an experienced surgical team. To learn more about breast implant removal, contact us at 610.527.4833.
Posted in: Breast augmentation
Leave a response