SculpSure after CoolSculpting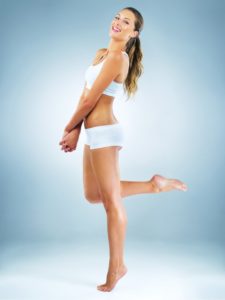 Many men and women visit Claytor Noone Plastic Surgery with a desire to reduce stubborn fat. Typical areas of concern include the flanks, thighs, and abdomen. Historically, fat reduction has been achieved with liposuction. This procedure is still a great option and one that many of our patients choose. However, there is now also the choice to destroy fat cells non-surgically. The treatment of choice for this objective is usually CoolSculpting. In our Bryn Mawr office, there is also the option of fat-reduction with SculpSure.
Liposuction, CoolSculpting, and SculpSure work differently, which enables us to meet more nuanced preferences and needs. Because each process is different, patients can also "double-up" to finesse the outcome of their body contouring journey. In particular, what more people are doing is finalizing their treatment protocol with SculpSure after CoolSculpting.
How SculpSure Works
SculpSure is a laser-powered device that essentially works oppositely than CoolSculpting. The applicator on the device targets fat cells with heat. During treatment, an appropriate applicator is placed against the skin for a 25-minute period. During the first several minutes, heat progressively intensifies to reach the goal temperature. The remaining treatment time goes by with alternating heat and cold. This protects the uppermost layers of tissue from overheating while maintaining the necessary heat farther beneath the surface. Like CoolSculpting, SculpSure incites a fat-destruction process that spans over a few months, after which time the surface and circumference of the treatment area are vastly improved.
Why Choose Both?
Since both CoolSculpting and SculpSure work on stubborn fat, why might a patient choose both? Usually, we hear about one versus the other, not one as a complement to the other! In some cases, SculpSure is an excellent follow up to CoolSculpting. The reason is that we must be able to pinch a certain amount of fatty tissue in between two cooling panels for CoolSculpting to work. With SculpSure, this is not necessary because the heating panels sit over the skin rather than around it.
Schedule a Consultation
Combining body contouring treatments like CoolSculpting and SculpSure is a great way to get the results you envision. Learn more about each of these procedures in consultation at our Bryn Mawr office. Call (610) 527-4833 to schedule yours.
Posted in: Body Contouring
Leave a response