Get the Skinny on SculpSure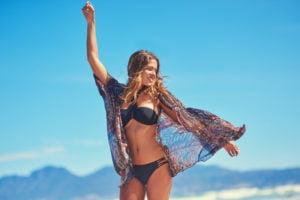 Fat reduction is something that humans have been working on far longer than we may imagine. Gone are the days of admiration for the Venus shape; modern women desire to be slimmer, albeit still with curves in all the right places. Widespread fitness and diet trends are a testament to our desire for healthy, attractive bodies. At the same time, the widespread popularity of body-contouring procedures like liposuction and abdominoplasty remind us that even a healthy lifestyle can't guarantee us the shape we want.
If you're tired of the struggle you've been in with stubborn fat, you don't have to surrender. Consider how non-surgical SculpSure in the Philadelphia area can help you overcome this challenge.
SculpSure uses a unique technology to melt away fat from the midsection and flanks (bye, bye, Muffin Top!). Where CoolSculpting uses low temperature, and UltraShape uses sound waves, the SculpSure platform uses heat-generating laser energy. This energy passes through the dermis without causing discomfort to the skin because there is a cooling panel on the surface. The absorption of laser light transfers as thermal energy, which disrupts the membrane of the fat cell, causing destruction.
The Finer Points of SculpSure Treatment
Of course, the best thing about SculpSure is getting a better body without surgery. Additional advantages of this particular treatment include:
High safety rating. SculpSure has maintained a high safety rating as technology has continued to advance.
Each SculpSure treatment can result in 25% fat reduction in the target area. Just remember, this happens over time because the body is naturally eliminating fat cells through lymphatic drainage.
SculpSure meets patients' need for a no-downtime treatment. If only one area requires treatment your appointment will last as little as thirty minutes. It is possible to have more than one area treated during the same visit.
Only one treatment may be needed. SculpSure doesn't need to be scheduled as a series of treatments. After the first treatment, additional body-contouring can be scheduled if the more fat reduction is desired after 6 weeks. Many of our patients do schedule two to three sessions to obtain the most dramatic results.
Those who typically undergo SculpSure treatment have already tried to reduce fat with diet and exercise. The ongoing engagement in healthy living sustains results from non-surgical body-contouring so that patients may not require any further treatment.
Summer is just around the corner! Let us help you get ready. Call 610-527-4833 to learn more about SculpSure.
Posted in: Body Contouring
Leave a response