Exploring Options for Non-Surgical Fat Reduction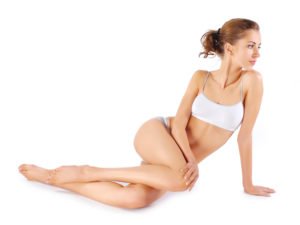 The excess fatty tissue has been an issue that millions of men and women have struggled to overcome. The more we have learned about the body, the more confused we may be about how to get stubborn cells to take a hike without having to go into complete deprivation mode. While we encourage patients to maintain healthy diet and exercise habits, we also know that fat reduction treatment is sometimes necessary.
We are proud of our position at the cutting-edge of aesthetic medicine. Patients of our Bryn Mawr office aren't limited to liposuction for fat removal; they can also explore non-surgical fat reduction with CoolSculpting or SculpSure. Why two non-surgical options? Because everyone is different and it is our aim to cater to individual preference. Here, we provide details to help you move toward the fat reducing process that best suits your needs.
Two Sides of the Same Coin
You could say that CoolSculpting and SculpSure affect fat in the same manner. Both procedures affect fat through temperature control. However, they do it from different ends of the spectrum. CoolSculpting is a "fat freezing" method of body contouring, whereas SculpSure heats the fat to melt unwanted cells.
Differences in Treatment
The CoolSculpting treatment process involves both gentle vacuum and cold temperature. The tissue in the treatment area, usually the abdomen, is held between two cooling panels throughout the duration of treatment. Cooling must take place for about 60 minutes to achieve adequate temperatures for cryo lipolysis. The destruction of targeted cells renders them useless to the body, so they are naturally metabolized over time.
SculpSure treatment targets fat through multiple applicators that sit on the skin's surface. Applicators have built-in contact cooling to prevent overheating on the dermis. Over about a 25-minute treatment period, the device elevates the temperature of the adipose tissue to just under 120 degrees Fahrenheit. Using up to four applicator panels, it is possible to treat two adjacent areas simultaneously. Also, the penetration of heat into adipose tissue extends outward, which can lead to a smoother transition between untreated tissue and the sculpted area.
The fat reduction has become easier thanks to innovative technology that compliments a healthy lifestyle. To learn more about CoolSculpting and SculpSure, call our Bryn Mawr office for a consultation.
Posted in: Body Contouring, CoolSculpting
Leave a response