Laser Treatments
In our Premier Skin and Laser Center, we offer three laser treatments to rejuvenate your skin and permanently remove unwanted hair: Intense Pulsed Light (IPL), fractional laser skin resurfacing, and laser hair removal. We combine the latest laser technology with extensive training to ensure your skin will look great and you'll love your results.
What skin issues can lasers correct?
From acne scarring to rosacea, enlarged pores to stretch marks, sun damage to hyperpigmentation, we can address a wide variety of skin conditions in our Premier Skin and Laser Center. Here's an overview of our three laser procedures with links to more involved discussions of each procedure.
What is IPL?
Intense Pulsed Light (IPL) photorejuvenation uses intense pulses of light in wider wavelengths than a single laser to penetrate deeply into the skin. With the variety of available wavelengths, we are able to set the wavelength to precisely your skin problem. Brown spots, sun-damaged skin, areas of rosacea, and broken blood vessels absorb the light energy, but the surrounding skin is unharmed. The targeted spots are destroyed by the IPL energy. Brown spots first darken and then peel away. Broken blood vessels immediately improve. Plus, your results continue to build as the IPL energy entering the dermis layer of the skin triggers a wound-healing response where the body builds new supplies of collagen and elastin.
What is fractional laser skin resurfacing?
With fractional laser skin resurfacing, the idea is to create hundreds of microscopic channels through the epidermis down into the dermis layer of the skin. These microscopic holes are surrounded by healthy skin that instantly gets busy "healing" the wounds. Despite the fact that these channels heal within just a few hours, your body perceives these as wounds and responds with wound-healing measures. These include building new healthy skin cells, producing new collagen and elastin, and improving texture and tone on the treated areas. Fractional laser skin resurfacing is great for treating uneven pigmentation, stretch marks, acne scarring, and fine lines and wrinkles.
Three For Me: IPL & Fractional Laser Before and After Photos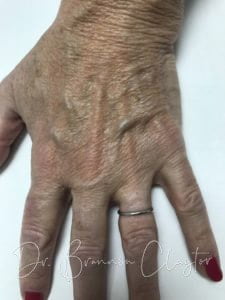 Before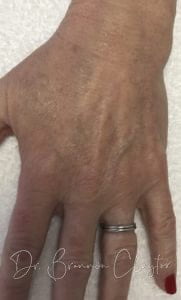 After
Click Here to View More Before and After Photos in Our Gallery
What is laser hair removal?
Who likes shaving, plucking, or waxing unwanted hair over and over again? No one. With laser hair removal in our Premier Skin and Laser Center, you can get rid of the hair permanently. We simply set the laser wavelength to match your hair color. Then we deliver short bursts of laser energy onto the targeted hairs. The melanin in the hair shafts absorbs the light energy and it converts to heat. This heat travels down the hair shaft into the follicle where it damages the follicle and prevents it from growing hair in the future. Laser hair removal can be done all over the body and is very successful. For the best results, the hair needs to be in the growth phase, so multiple treatments are necessary because each of our millions of hairs can be in either growth, transition, or resting phases.
Combining laser skin treatments with other skin care options
This depends on the procedure. Laser skin treatments wouldn't be combined with procedures such as microneedling or microdermabrasion, as the skin needs some time after your laser treatment to respond to the laser energy. Most of our skin care products can complement any laser procedure, however.
Can I combine laser skin treatments with surgical procedures?
Laser treatments can be combined with certain cosmetic surgeries at Clayton Noone Plastic Surgery. For instance, while a facelift removes excess skin and tightens underlying muscles, it doesn't alter the tone or texture of the skin itself. That makes laser skin rejuvenation a perfect complement to a facelift. Ask us about procedures that can work together with laser rejuvenation.
Is there downtime after A laser treatment?
Our laser treatments leave the skin slightly reddened and feeling a bit like you have a mild sunburn. This usually lasts for just a day or two. These treatments are not ablative, so there isn't recovery time to let your epidermis heal. Your skin will be more sensitive to sun exposure for a few weeks, however, so you'll need to be sure to wear sunscreen and protective clothing.
Schedule A Consultation
Interested in learning more about our laser treatments? Call (610) 527-4833 to schedule a consultation with Philadelphia Plastic Surgeon Dr. Claytor. Our practice serves patients from Philadelphia, Bryn Mawr, Main Line and surrounding areas in Pennsylvania.