TIME magazine; Nip, Tuck or Else…..
The recent Time magazine article by Joel Stein which examined America's enthusiasm with plastic cosmetic surgery is well written and chronicles the evolution of safety and improvements in plastic surgery. A review of some of his statistics shows that the USA ranks #2 after only Brazil by the percentage of plastic surgery procedures performed in the year 2013. Americans today feel much more comfortable with the concept of cosmetic enhancement. A report in 2014 by MSN showed that 54% of people upon finding out that someone had had plastic surgery would respond with a "good for them!".  Additionally a survey from the American for Dermatologic Surgery, showed that 52% of Americans were thinking of getting aesthetic treatments, making cosmetic surgery the "new makeup".
To ensure your best options for results, make sure that you check out the credentials of the doctor who you are selecting. A physician board certified by the American Board of Plastic Surgery and a member of ASAPS with extensive aesthetic experience is always a good idea.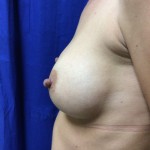 Posted in: Abdominoplasty, Articles on Mastopexy Procedures | Noone Plastic Surgery, Breast augmentation, gynecomastia, Liposuction, Tummy Tuck