Kybella or Liposuction: What's better for Double Chin Fat?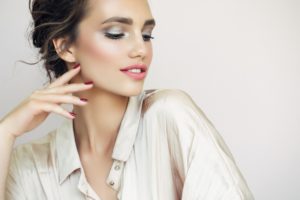 Historically, anytime there was excess fat that a person wanted to have removed from the body, plastic surgeons would turn to liposuction. Over the years, the liposuction procedure has evolved in significant ways. Innovative uses of energy such as ultrasound and lasers have improved patient outcomes and expanded the reach of the liposuction procedure (not to mention the safety).
As streamlined as liposuction has become, there has continued to be a keen interest in non-surgical treatment options. Botox has made it possible for some people to put off that brow lift, for example. Injectables have also made it appear as though the need for liposuction may go away, at least in some cases. In our Bryn Mawr office, we routinely use Kybella to reduce double chin fat. However, liposuction is still an option. To choose the best approach for your desired outcome, it helps to know how your two options stack up against one another.
Liposuction for a More Contoured Neck and Jawline
Neck and chin liposuction has been performed using the SmartLipo technique for many years. This procedure has a proven track record of reliable outcomes. Because the laser portion of the procedure melts fat cells before they are removed with a cannula, the overall process usually takes less than an hour. Because heat is involved in dissolving fat cells, there is also the pleasant side effect of skin tightening. SmartLipo of the chin and neck is minimally invasive and requires little downtime. Some patients are advised to wear a compression garment for a few weeks to support healing tissue. The initial improvement in the chin area can usually be seen within a week or so, but swelling continues to dissipate over several weeks, so patience is necessary as recovery progresses.
Kybella for Double Chin Removal
Kybella treatment takes place in the office using local anesthetic such as numbing cream, if necessary. The process includes mapping the treatment area with a grid and marking the numerous injection sites. A few dozen injections may be required depending on the degree of fat removal desired and size of the neck and chin areas. The region that can be treated with this injectable solution lies between the crease of the chin and the "Adam's Apple" on the neck. The area below the jowls can also be treated, but not the jowls themselves. The reason for these boundaries is that it is vital to keep Kybella away from structures such as blood vessels and nerves, which may be affected by the deoxycholic acid in the injectable.
Kybella or Liposuction: Which Do You Choose?
During your consultation in our Bryn Mawr office, we will observe your skin and listen to your concerns before recommending treatment. We will explain what can be achieved surgically as well as non-surgically, so your choice is made easier.
Learn more about the assistance available for reducing double chin fat: Contact us by calling 610-527-4833.
Posted in: Kybella, Liposuction
Leave a response