A Facelift Like No Other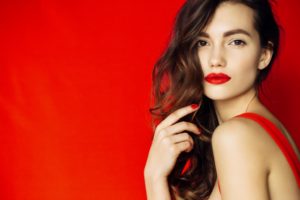 Facelift surgery has commonly been performed to help men and women look younger and feel better about their appearance. As much as this procedure has evolved over time, many people express a desire for a more conservative approach to a rejuvenated face. In our practice near Philadelphia, we can accommodate this with The PrecisionTX™ Knifeless Facelift.
If you wish to reduce the signs of aging on your face but don't want to commit to a conventional face or neck lift, PrecisionTX may be an ideal solution. This laser treatment addresses the loss of elasticity and firmness that naturally occurs with age. As a result of laser targeting, superficial tissue tightens and the appearance of jowls, a double-chin, and "turkey neck" diminish.
What is PrecisionTX?
This non-surgical treatment isn't just laser skin tightening. During treatment, the 1440 nm wavelength of YAG laser energy targets excess fat cells in a small treatment area. These liquefied cells can then be easily removed with gentle liposuction. After this initial fat-reducing phase of treatment, overlying skin is redraped and treated once again with the laser. The thermal and photomechanical effects incite an ongoing and robust increase in collagen production. As the skin is infused with healthy new collagen, it thickens and firms.
Improvements Achieved with the PrecisionTX Non-Surgical Lift
Learn also about our men's facelifts >>
Lines and Wrinkles
Adjustable settings in the laser treatment platform allow Dr. Claytor to accurately target facial contouring and wrinkles at varying depths. This is a genuinely customizable treatment.
Texture
Aging skin is collagen- and moisture-depleted. This typically results in a noticeable loss of elasticity and vibrancy. Dull skin looks rough and often exhibits large pores. By encouraging cellular turnover, PrecisionTX treatment gives the skin the refresher it needs to look radiant and smooth.
Loose Skin and Jowls
When loose skin and jowls are problematic, the PrecisionTX laser cannula can be inserted beneath the surface through the tiny incisions made for liposculpting the chin and neck. The direct contact between laser energy and subdermal tissues substantially increases collagen production in the areas where sagging is at its worst, such as the neck and jawline.
We have several ways to approach facial aging without surgery. To learn more about PrecisionTX and other non-surgical techniques, contact us at 610-527-4833.
Posted in: Facelift
Leave a response