Have You Been Considering CoolSculpting?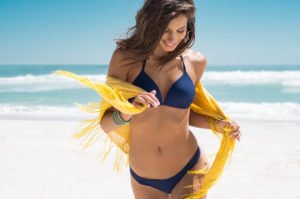 Body contouring. This term describes more than a beauty trend; it is a portrayal of common culture and big business. When it comes to body contouring, there are several options available to men and women of all ages. In our Bryn Mawr office, CoolSculpting is a popular method of contouring the body without anesthesia or surgery. Many people recognize CoolSculpting as the treatment that melts away fat with freezing temperature; the fat that is so resistant to diet and exercise.
CoolSculpting may be a well-known name at this point, but we understand that familiarity with the name alone doesn't negate the fact that this cosmetic procedure may come with a lot of questions. We appreciate when patients ask questions because it demonstrates their commitment to long-term results. Here, we discuss details that can help you decide to move forward with your CoolSculpting treatment this summer.
Where CoolSculpting Works Best
One of the most common questions we are asked is what areas of the body can be treated with CoolSculpting. Thanks to CoolAdvantage application heads, it is now possible to address a broader range of areas. CoolSculpting isn't just for that stubborn belly fat anymore. Now we can handle bra and back fat, the "muffin top," and the chin.
The expansion into the chin area has been a significant advance for non-surgical body contouring. Using a mini-applicator, we can draw excess fat beneath the chin into space between two cooling panels. The freezing temperature reached after several minutes between the panels causes the fat cells of the double chin to self-destruct. While there may be slight redness or bruising and swelling, the side effects of CoolSculpting double-chin treatment may be quite a bit less noticeable than Kybella treatment.
About Pain
Patients who are considering CoolSculpting almost always ask about pain. Some have portrayed CoolSculpting as painful. In reality, the nerve-endings in the treatment area lose sensation within a few minutes of sitting between the cooling panels. Initially, there is a sensation of tugging. This is because gentle suction is used to hold the fatty tissue in place. While tissue is reaching the target temperature, a slight ache or crampy feeling may occur. However, this does not last long and is more uncomfortable than painful.
CoolSculpting has helped thousands of people achieve the contours they want without surgery. The fat that is destroyed with this treatment does not come back, and results can last for years when a steady weight is maintained.
Learn more about CoolSculpting body contouring and contact us online or at 610-527-4833.
Posted in: CoolSculpting
Leave a response